Culinary hiking break in
Europe
Hiking is a particularly intense way to experience a destination with all its special features, such as the regional culinary treasures, the cultural sights, the tranquil natural landscapes and wonderful spots along your hiking path. Strolling through nature step by step on well-maintained hiking trails and taking hiking break as the mood takes you – that is real enjoyment. This wonderful hiking time-out is rounded off by the opportunities to stop for refreshments, inns and restaurants that cook with local ingredients and serve dishes typical for the region. Many of these gourmet addresses are located along the way on your hiking path and are just waiting to spoil you. We now present some of the most beautiful gourmet regions for a walking holiday in Europe.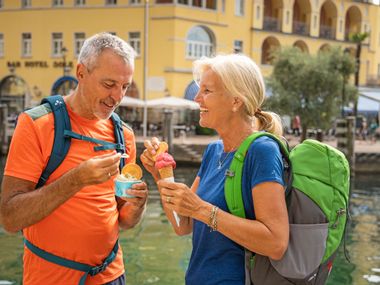 Culinary Walking Holidays in the
Salzkammergut

region
The Salzkammergut is a truly heavenly region, made for hiking and enjoyment. This region with its fantastic hiking routes, high-altitude paths, peaks, lakes and special sights makes for a perfect active break. Then there are the wonderful traditional dishes and typical specialties served in the cozy inns, alpine huts or in fine gourmet restaurants. Be it a freshly caught Reinanke from Lake Wolfgangsee, a char from Lake Fuschlsee or a smoked trout with a slice of sourdough bread and horseradish. Or the delicious pastries like the popular Zaunerstollen in Bad Ischl, a lukewarm Pofese or a Kaiserschmarren with plum roast at one of the huts on the Postalm? In the Salzkammergut, every gourmet hiker gets his money's worth again, simply wonderful!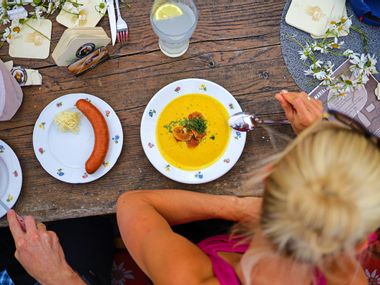 Culinary Walking Holidays in
Bavaria
Decelerated hiking and enjoyment are particularly easy in this destination. Here in the south of Germany, picturesque natural landscapes and tranquil lake areas around the Alpine foothills of Bavaria provide wonderful moments in nature. Authentic, warm-hearted hosts and traditional inns, as well as breweries typical for the region round off the pleasurable hiking experience. Depending on the choice of the hiking route, there are plenty of delicacies to discover on the menus in Bavaria. Whether a veal sausage with pretzel and wheat beer in one of the lively beer gardens in the state capital Munich, or a beer in a traditional monastery brewery in the Altmühltal – it is guaranteed to taste good. A Bavarian snack with sourdough bread, Obazda, liver sausage and Radi also makes for an enjoyable hiking break. Real cheese gourmets can look forward to a wide variety of cheeses such as cream cheese, sheep's cheese, goat's cheese, hard cheese and much more from Bad Tölz.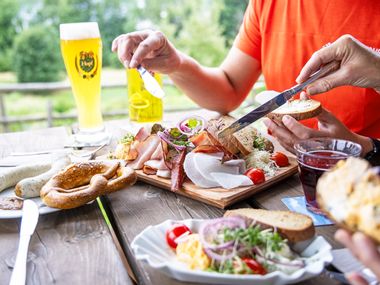 Culinary Walking Holidays in
South Tyrol
What more could the heart of a hiker desire: romantic villages, historically rich castles and palaces, a hilly landscape adorned with vineyards and fragrant apple trees—and the icing on the cake, South Tyrolean specialties on the plate and a fine drop in the glass. The favorable climate not only makes apples and fruits flourish and allows South Tyrolean winemakers to produce magnificent wines. It also promises countless hours of sunshine at pleasant temperatures—a delightful region perfect for a vacation. At the alpine huts or in the inns you should not miss the dumpling specialties, which are the perfect treat for meat fans as well as vegetarians or vegans. And: An Italian ice cream and a creamy cappuccino – preferably in combination – are always a good idea!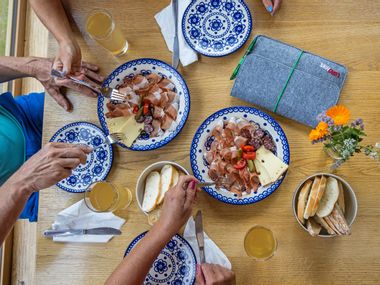 Culinary Walking Holidays in the
Piedmont

region
In Piedmont, time ticks a little differently; here, the conscious embrace of " taking it easy" is still a way of life. One simply takes ample time for what matters most for life, for enjoyment, and for everything that brings well-being. The scenic, culinary, and cultural virtues of this region make the hustle and bustle of home fade away within a few hours. Especially in culinary terms, Piedmont provides for the pleasurable hiking experience. Taste the delicious truffles directly from the region in Alba, visit the picturesque vineyards and taste the renowned wines such as Barolo or Barbaresco at one of the top vintners, or enjoy the hazelnuts and the sweet products made from them. You will see, while hiking and enjoying in Piedmont, your everyday life at home will become a distant memory in just a few hours.
Culinary Walking Holidays in
Tuscany
Tuscany is a holiday destination straight out of a picture book. It is home to historical sights, picturesque landscapes and culinary delights that make an active vacation an unforgettable experience. The selected hiking routes take you to the most beautiful places such as Florence, Siena, Pisa, Cecina Mare and as far as the island of Elba. Along the hiking trail – and depending on the area – typical regional specialties await you. These include the sweet almond pastry Cantuccini, excellent red wines such as Chianti, Schiacciata (similar to Focaccia), Pappardelle with wild boar ragout or freshly caught, grilled seafood on the coast. No matter which specialty you choose, or if you would like to try them all, nothing stands in the way of your enjoyable walking holiday in Tuscany.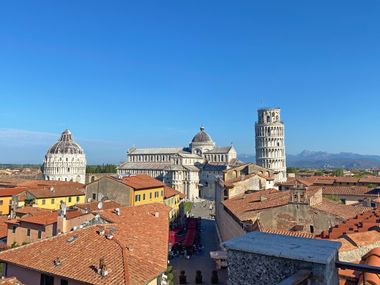 Therefore
hiking holidays

with Eurohike

benefits

that convince