Globalization, the ever-accelerating pace of daily life, and the consequences of our actions on the climate are issues that concern us all. Every day, we make environmentally relevant decisions, whether it's our mode of transportation, grocery shopping, or vacation planning. Yet, perhaps we should reflect more frequently on how these everyday decisions, both significant and minor, impact our environment. At Eurohike, we have done just that, integrating sustainability and climate-conscious actions into our daily operations. As a provider of nature-based active travel, our commitment to safeguarding the environment and treating nature with respect is at the core of our work. Today, we'd like to share with you the initiatives that reflect our "green consciousness."
Our goal is to achieve Travelife partner status by the end of 2023. Travelife is a globally recognized training and certification program for sustainability management in the travel industry. Energy-saving measures, waste management, emissions management, and sustainable environmental practices are being thoroughly and transparently evaluated. To achieve these sustainability goals, we have formed a dedicated team comprising members from all areas of the company. This is a significant step in our journey toward fostering a "green mindset" within the Eurohike organization, and it will be extensively documented in our upcoming sustainability report. This team collaborates on implementing our sustainability initiatives, bringing diverse perspectives to continuously improve all internal operations and processes. Additionally, we invest in internal training and regular updates to ensure that all employees can actively contribute to sustainability.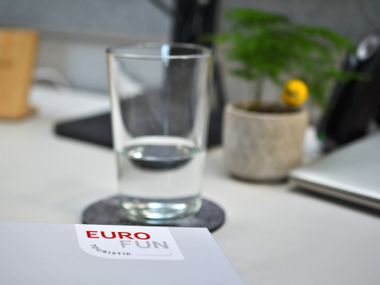 Together for
sustainability
Our team and our measures
Everyday counts – that's our sustainability mantra for a mindful and eco-friendly Eurohike office routine where each member of our team plays their part in this climate-conscious way of life. We'll now share with you how this works and what sustainability in our office life means to us.
Environmentally friendly
commute
Let's start where our workday begins: with the journey to the office in Obertrum am See. Many of our employees at the company use public transportation or eco-friendly means of transportation like bicycles or walk to the office. There are also team members who, even early in the morning, cover a significant distance on their bicycles, including steep uphill climbs. Another eco-friendly commuting choice is car-sharing, where numerous colleagues are well-connected, relishing pleasant conversations during their journey to work. To improve planning and coordination, we rely on a dedicated app. Furthermore, to encourage everyone to stay active and engaged in their free time, we offer the option of borrowing Eurobike bicycles free of charge, enabling a range of resource-efficient outdoor activities. In line with our motto, "the best mile is the one pedaled or walked," we make a conscious effort to organize our trips efficiently to avoid unnecessary emissions.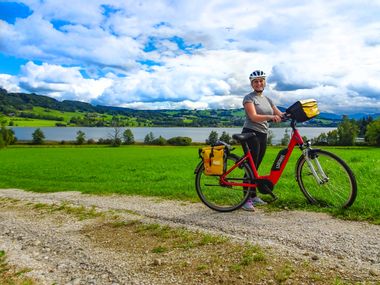 In our vehicle fleet, steps have also been taken towards greater sustainability, including options to expand the use of electric vehicles in our logistics department. We have on-site charging for company-owned electric vehicles. In recent years, remote work has become an essential part of our work model, significantly reducing emissions from the daily commute. For those who commute by car, the parking lot in front of our office building in Obertrum am See has been ecologically designed with numerous newly planted trees. These trees have been carefully integrated into the natural landscape of the Salzburg Lake District, enhancing the green paradise's visual appeal. With each tree, we've contributed positively to the environment!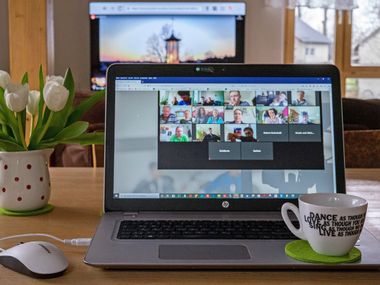 Sustainability in the
office

: Collective commitment
This is how a sustainable and resource-efficient office routine is accomplished: All employees work together to ensure proper waste separation. Recycling takes place throughout the building, with plastic, paper, and general waste being diligently separated. Our organic waste is composted, and the resulting compost is used as a natural fertilizer in the raised beds of our company garden, closing the loop. A particularly environmentally friendly step was taken a few years ago with the implementation of a "paperless" office. Asking ourselves whether a particular document really needs to be printed has become a common practice and is easily answered, especially in today's digital world. This measure has saved us, for instance, approximately 8,000 sheets of paper per month in our accounting department alone!
Our workstations are equipped with state-of-the-art equipment and ergonomic furnishings - our desks have storage compartments and personalized pen holders made of wood instead of plastic. We also prioritize regionality when choosing our cooperation partners! Our staff clothing is sustainably and ethically produced to ensure that ecological standards are also upheld in this area.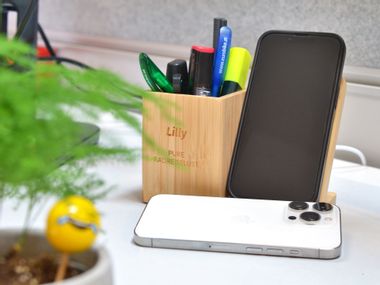 When it comes to printing our catalogs, it's important for us to ensure carbon-neutral production. Therefore, we collaborate with local printers to minimize transportation distances and support the local economy. We use sustainably produced wrapping & packaging for catalog shipping, and the resulting carbon footprint is offset in collaboration with ClimatePartner. By funding a certified climate protection project, we contribute to nature conservation in Austria.
After a long day in the office, all our employees are grateful for our cleaning team, ensuring cleanliness and order. We prioritize environmentally friendly cleaning products and utilize water-saving faucets & fixtures within our facility to reduce water consumption.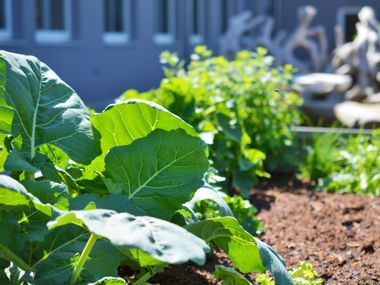 For over a decade, we have been using a photovoltaic system for electricity generation, and a solar panel system is used for hot water production. We utilize three battery storage units to make use of this energy source even on days with limited sunlight. Throughout the building, we employ energy-efficient lighting and make use of natural daylight whenever possible.
Regionality and quality

on the plate
In our daily office routine, we also prioritize sustainable variety with a focus on quality and regionality when it comes to our culinary choices. We source organic apples from Thomas Wallner, a local organic farmer in Seeham, yogurts in a jar from "Buachberger's Mili" in Mattsee, and once a week, we look forward to the freshly prepared lunch from our neighbour, the Trumer Schmankerlhof. In our office kitchens, we've switched to fair-trade coffee, and we enjoy our breaks in our green oasis. In our garden, we have raised beds where we cultivate vegetables like cucumbers, tomatoes, and herbs for snacking!
Furthermore, we prioritize regional added value when gifting regional products for birthdays and Christmas to our team. It's truly wonderful to see that, for many in our team, sustainability is deeply ingrained in their fundamental thinking and has become a genuine way of life!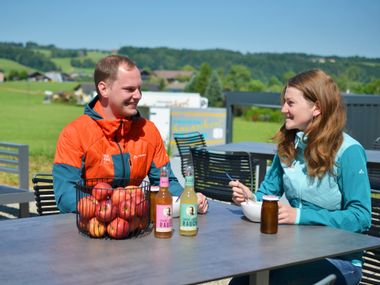 A thriving, resource-efficient, and environmentally aware office routine is undoubtedly effective when individuals recognize the importance of the matter and are dedicated to promoting the respectful treatment of our distinctive environment, today and in the years to come. Even if it's just a modest part of a broader societal shift, we find fulfillment in our efforts within our eco-conscious office environment, which aligns with economic, ecological, and social responsibility.