The
most beautiful hiking

regions in Spain
Dancing the flamenco, eating tapas &
active hiking holidays
When thinking about Spain, many holidaymakers automatically think of the Mediterranean paradises of the Balearic and Canary Islands, or the famous metropolises like Barcelona or Madrid. But this country has much more to offer its visitors. Spain – a country full of contrast – forms a mosaic of multifaceted culture, fiery flamenco, regionally varied cuisine and the perfect destination for active holidaymakers. There's a reason why the country has around 44 UNESCO listed sites – and one of the world's wealthiest countries in terms of extraordinary natural heritage and history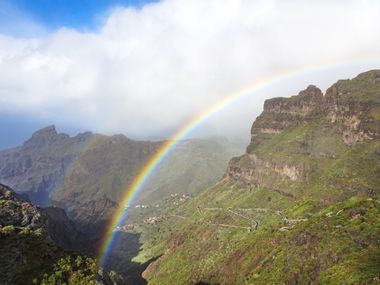 Five islands make up the Balearics – Mallorca, Menorca, Ibiza, Formentera and Cabrera. The beautiful island Mallorca is a popular travel destination for holidaymakers worldwide. No wonder, because the island in the Mediterranean offers countless fabulous sights, which always tempt you to return. You will always find this unique Mediterranean flair: Whether during the hiking holiday Mallorca Finca-Walking with Charm, the mountain hiking holiday Mallorca - Along the GR221, the hiking tour Mallorca - Trans Tramuntana, during the hiking holiday Mallorca's West Coast with Charm, while taking a break on paradisiacal sandy beaches or during a fabulous traditional meal. The neighbouring island of Menorca is a bit more tranquil, but this does not detract from its beauty. The 'Camí de Cavalls' long-distance hiking trail is a delight for the soul and the eye: Lonely bays, pristine sandy beaches and breathtaking cliffs – Menorca is a true active travel paradise. Mallorca and Menorca – the perfect diverse holiday destinations for a hiking tour!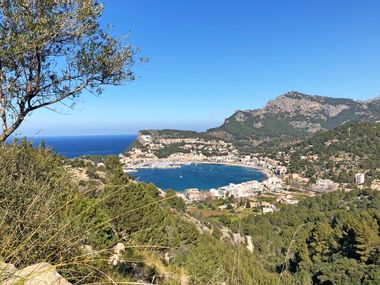 When we are speaking of multi-faceted locations, the seven main Canary Islands – also known as the 'Islas Canarias' - reflect exactly this. Located in the eastern central Atlantic, the island paradises offer an almost limitless variety: From wonderful white to fine black sandy beaches, flat to rugged coastlines, quiet to busy villages and cities, as well as unique hiking paths and pilgrimage routes. Active and hiking holidaymakers as well as those looking for peace and tranquillity, as well as sun worshippers will find their very own holiday paradise on Tenerife, Lanzarote, El Hierro, Fuerteventura, Gran Canaria, La Gomera or La Palma – all islands with volcanic origin.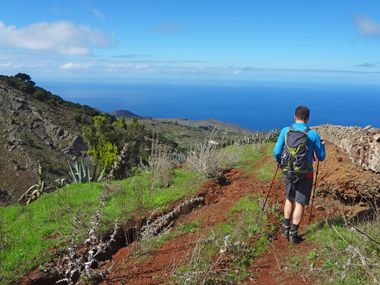 Hikes along beautiful coastal regions have something special about them. Not only is the active holidaymaker always accompanied by a fresh sea breeze – they also have an experience that brings both the mind and body into harmony. On our hiking tour Basque Country & Atlantic Coast from Zumaia to Bilbao in northern Spain, you will discover beautiful natural landscapes, historical and cultural hotspots, and enjoy the fantastic regional cuisine – always accompanied by the rushing Atlantic. At the end of the trip, a great highlight awaits in the capital Bilbao – a visit to the famous Guggenheim Museum. What a journey!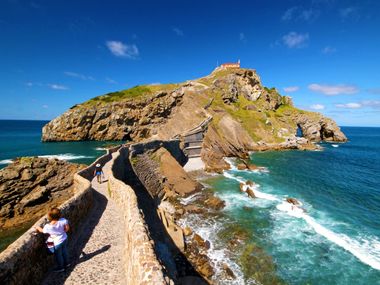 Out and about in the mainland Spain: The heart of the country offers active travellers an impressive range of hiking opportunities. During our hiking holiday the Heart of Catalonia active holidaymakers experience spectacular views all the way to the coast. And who hasn't heard of it – the famous Way of St. James, also called the 'Camino Francès'. This pilgrimage route contributes significantly to the history and culture of the country – and since 1993 it has also been a UNESCO World Heritage Site. Hikers discover the north of the country in a very special way over 800 kilometres. And there is enough time for rest and relaxation. Our Eurohike tour on the Camino de Santiago "Camino Francés", 8 days will take you eight days over around 100 kilometres along the last stage of the pilgrimage route from Sarria to Santiago de Compostela, where you will receive your personal pilgrimage certificate. Are you ready for a special and perhaps a spiritual active holiday?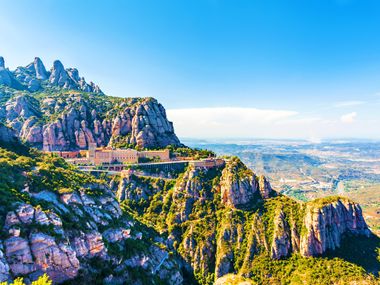 The
most beautiful hiking regions

in Spain
Climate

: 365 days of active holidays
The climate in Spain is as diverse as the country itself. But for a Eurohike hiking tour the climatic conditions offer wonderfully pleasant temperatures all year round. And did you know that the climate in the Canary Islands – especially Tenerife – is one of the healthiest global climates? On our hiking tours through the interior or the Balearic or Canary Islands, you can find this out for yourself and do something good for your body and mind. Hiking tours, active holidays and experiences in beautiful natural landscapes – Spain offers the perfect conditions for a successful holiday.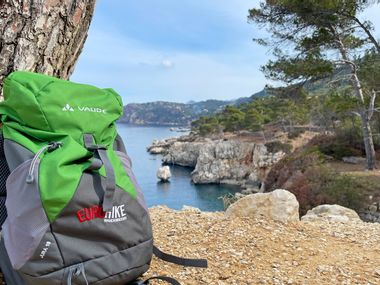 No hustle and bustle: The everyday life of the Spanish population perfectly reflects the Mediterranean way of life. In this way, appointments are a bit more flexible, people take time to chat and as fiery as some may seem, they begin the day so cosily. After a hard day of work, an important focus is on relaxation and enjoyment – of course with family, because this is the top priority for Spaniards. And even though there are numerous differences in ethnic groups and cultures in the country, all Spaniards share one nice quality: A warm, sociable and hospitable disposition. And what would Spain be without its characteristic symbols and traditions that are firmly connected to the country: This includes the famous art form and one of the most important cultural assets – flamenco, a combination of music and dance from Andalusia.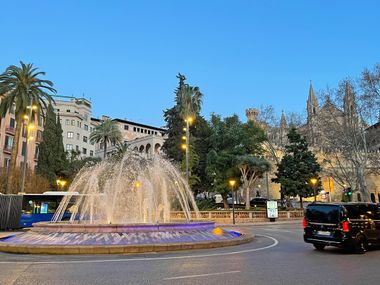 Cuisine

: Mediterranean indulgence
Maritime flair can also be found in Spain's cuisine. Each region has its own culinary treasures, which in turn combine to create a delightful interplay of dishes. This is down to the diverse land and climate. People eat late in Spain: There is only a small, uncomplicated breakfast with coffee and pastries. From 2pm until 5pm comes 'siesta' – the break used to drive home, switch off and have lunch in peace before dinner at around 9pm. The diverse cuisine includes delicious dishes including stews and legumes, lots of fresh vegetables, meat, ham, fish and seafood, cheese, olive oil and heavenly desserts – accompanied by delicious regional wines.
All Spaniards from north to south have one thing in common – their great passion for tapas, pure Spanish happiness. So, if it says 'tapear', that means to go out for tapas, not only is the joy great, but the choice is too! From the famous Spanish ham the 'Jamón Ibérico', small fried peppers 'Pimientos de Padrón', grilled squid and cooked octopus 'Calamares or Pulpo', shrimp in garlic oil 'Gambas Al Ajillo', tasty potatoes 'Patatas bravas', potato omelette 'Tortilla', green and black olives, different types of cheese including 'Manchego' and 'Empanadas', delicious filled pasties. Every foodie will enjoy this delicious selection!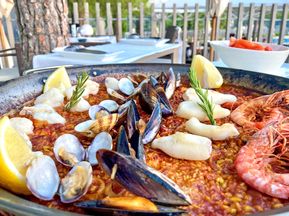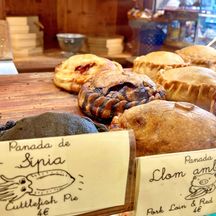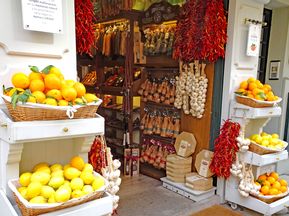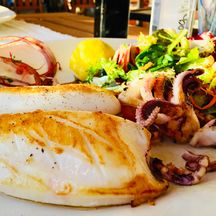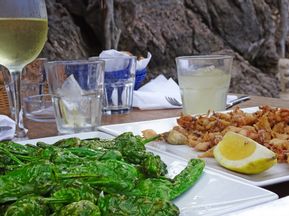 Questions and answers

about hiking holidays in Spain
Sorry! No FAQs were found. Please try again with a new search term.
Spain is home to a total of 49 UNESCO World Heritage Sites. Of these, 43 sites are World Heritage sites and four sites are World Natural Heritage sites. These include, for example, the old town of Santiago de Compostela, the pilgrimage routes to Santiago de Compostela, the biological diversity and culture on the island of Ibiza, the Teide National Park, the Serra de Tramuntana cultural landscape on Mallorca and many more.
The culinary diversity in Spain is great. The regional dishes are always prepared with lots of fresh vegetables, meat or ham, fish or seafood, regional cheese and olive oil. The regional wines round off the Spanish meals. Be sure to try one of the following specialties during your hiking holiday:
Jamón Ibérico (Spanish ham)
Pimientos de Padrón (small fried peppers)
Calamares or Pulpo (Grilled Squid or boiled Octopus)
Gambas Al Ajillo (prawns in garlic oil)
Patatas bravas (crispy fried potatoes)
The magnificent green and black olives
The regional cheeses such as the manchego cheese
Empanadas (stuffed dumplings)
Depending on the region, the hiking paths in Spain lead you through the wonderful natural areas with wonderful views and offer a lot of sights off the route. Discover the island's capital Palma de Mallorca while hiking in Mallorca or enjoy the tranquility while hiking in the Serra de Tramuntana. Experience a year-round hiking pleasure on the Canary Islands. Explore the Teide, the highest mountain on the island, while hiking on Tenerife, experience the idyllic hiking areas on El Hierro, the westernmost of the Canaries, or march step by step along the Way of St. James to Santiago de Compostela.
Best-selling hiking

tours in Spain
Therefore
hiking holidays

with Eurohike

benefits

that convince