Family happiness

on a hiking holiday
Do you like to enjoy active time and adventure in nature, preferably individually with the whole family? Perfect, because these are ideal conditions for a successful hiking holiday. In order for a hiking holiday with children to be perfect for the whole family, detailed planning and organisation is a prerequisite. How far should the route be? Where can the family stay overnight? What can the children experience other than hiking? Our Eurohike family hiking tours from Austria to Germany and Italy are fully organised and make a hiking holiday the perfect family trip – always with luggage transfer, of course. Are you ready for some wonderful family time?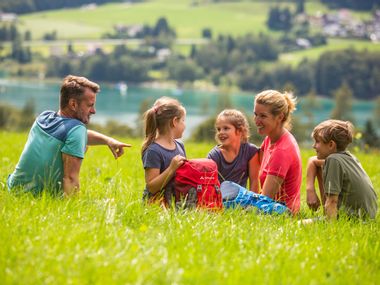 Hiking trails and routes

for families
Exercise in the fresh air is naturally fun for children. Choosing the right hiking path is very important for the success of your hiking holiday. That is why we carefully choose a route that is particularly suitable for children in terms of the length of the stages and the difference in altitude. That promises balance between physical activity and natural sights. The stages are chosen in such a way that there is enough time for longer breaks and adventures away from the hiking route. Because when hiking with children, even the small things mean a lot: along streams and lakes, through forests and on alpine pastures or over hill and dale – the wonderful hiking trails become a fun adventure and wonderful experience of the natural world. When choosing the routes, we also pay attention to the possibility of shortening a stage with public transport. If you wish, you can replace a stage with other activities. Depending on the child's travel and exercise experience, our hiking tours are suitable for children from the age of 6. Further information can be found directly in our Eurohike travel descriptions.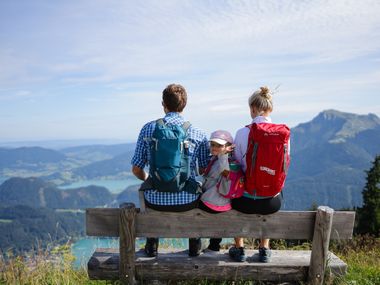 Accommodation

for families
All accommodation for our family hiking tours with luggage transfer are carefully selected. Depending on the choice of hiking tour, you can expect different types of accommodation from traditional alpine huts and guesthouses to comfortable hotels. If you are out walking with children, special requirements are placed on the hotels and accommodation – after all, both young and old should feel completely at ease. Therefore, our accommodation owners are experienced with hiking guests and families and offer cosy rooms with sufficient space and family friendly staff. Another important factor is that the accommodation is the stage goal, because an additional few kilometres could mean hiking an hour longer, which could overwhelm children. If the stage allows it, we always try to offer a place to stay with a playground, swimming pool or other additional attraction for families.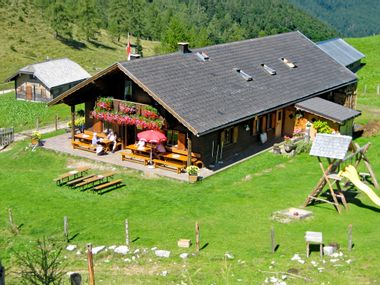 Hiking without luggage

for families
Hiking holidays with the family made easy: since travelling with the family usually means having a lot of luggage with you, luggage transfer is included in the price of all hiking tours for families. So you can bring everything you need in your suitcase and still hike lightly during the day. In the small day pack, only pack what you need. Such as a rain jacket, change of clothes, camera and some provisions. Your suitcases will be transported reliably and easily from accommodation to accommodation and will be waiting in your room when you arrive. This service is included in the tour price. So almost everything that you and your children would like to take with you on holiday can be packed in the suitcase.
Travel documents

for families
On all Eurohike family hiking trips you will receive a well-prepared travel documents package with detailed maps, route book, navigation tips, city maps and other useful information and tips. The special thing about it: the Eurohike team always includes some valuable information about adventures and activities that children can experience along and at the end of the stage. You will also find recommendation for inns and restaurants in our travel documents. Especially after a shorter stage, there is still enough time for an action-packed and enjoyable end to the day.
Always there for you: if you have any questions during your family hiking trip, you can of course contact us on our service-hotline. Our competent staff will be happy to take care of your concerns. We are there for you from 8am to 8pm, 7 days a week!
Family adventures in nature. Especially when hiking with children, the path itself should be an adventure. Nature offers the most important factors for calming the minds of young and old. And that is usually quite easy: a small stream becomes a fun water game, animals can be observed up close and a stop at a mountain hut ensures all family members enjoy a perfect moment of mountain indulgence. When choosing the route, our team at Eurohike makes sure not only to keep an eye on the destination, but also to keep an eye on the route and to include exciting activities for children along the way. Sometimes a stage even leads past a high ropes course or playground. Special adventures, such as a boat or cable car trip are included in some trips. You can find out more about this from our Eurohike team.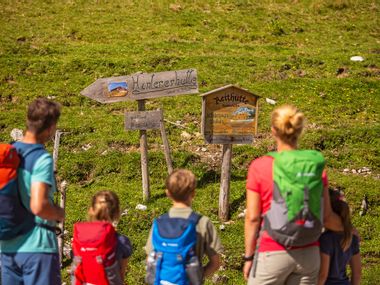 Tips

for hiking with children
The requirements for hiking equipment change depending on the season and weather. Every hike requires sports clothing in which the whole family feels completely comfortable. Clothing made from synthetic fibres are far more suitable than those made from cotton because they efficiently wick body moisture to the outside. This means that clothing stays dry for longer, even if you sweat. The more the climate in the region is subject to fluctuations, the more extensive and variable the clothing should be. A water-repellent or waterproof layer as protection against the rain, as well as a warmer jacked for the wind, should be packed in your day bag.
Our tip: Multifunctional jackets or a softshell jacket have been proven to be the ideal all-round solution.
When it comes to footwear, a distinction is made between light, functional shoes, light or classic hiking boots and solid trekking boots. Hiking boots have an advantage over multifunctional shoes in that they provide more lateral support and ankle protection, as well as offering better protection against moisture. In any case, light multifunctional shoes or hiking boots are sufficient for all Eurohike family tours. It is ok if existing clothing and shoes are used, because the latest model doesn't have to be bought for the next active holiday.
Our tip: Often, shoes that are already 'worn in' are the better choice and ensure an enjoyable hiking experience without blisters.
Basically, there are no special requirements for individual hiking trips with families. However, it is important that you as a family enjoy exercise and that you can easily hike smaller laps of a few kilometres together before you start your hiking holiday. Nobody has to be a professional hiker, you and your family just need to like to be out and about on foot in nature. According to the assessment of your own family, it is also important to choose an appropriate tour. Then the hiking holiday will definitely be the perfect active experience for the whole family. In principle, our hiking tours are suitable for children from 6 years of age.
Our tip: If you are unsure about which hiking tour to choose, our Eurohike team will be happy to advise you.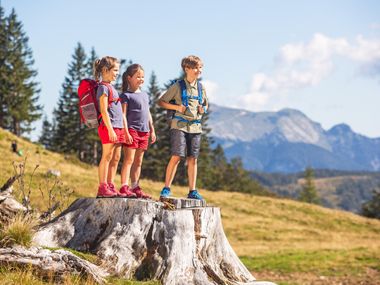 Breaks
A few steps are needed for big and small hikers to get into the swing of things. But ones the hiking flow sets in and you have found your pace, the time flies by. Nevertheless, you should take short breaks to relax and take a breath, perhaps at the most beautiful points.
Our tip: Children usually need more breaks than adults. If you don't wait until the kids are tired, they'll stay motivated. But hiking breaks can also be short.
Courage
In the hiking rhythm with the whole family a bit of courage never hurts, but it is not a prerequisite for a successful hiking holiday with children. Hiking trips shouldn't require a test of courage, on the contrary: at Eurohike we avoid major risk factors when planning routes. You will therefore not come across risky via ferratas or steep cliffs next to the paths. And if you do experience a more demanding stage, there will be an easier alternative route to choose. A great active experience for the whole family is guaranteed on our Eurohike hiking tours.
The
most popular hiking tours

for families