Further south with every step
In spring the area is full of blossoming cherry trees, in autumn the forests turn golden and the summer boast beautiful green meadows. A walk through the idyllic villages surrounded by vineyards and olive trees, through the beautiful Italian cities. All this is waiting for you during a hiking trip in Lake Garda.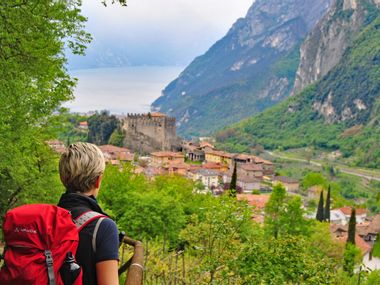 The
most popular hiking tours

on Lake Garda
OUR TOUR TIPS
Lake Garda – Venice
A trip to Venice – who doesn't want that? Walk from Italy's most popular lake, Lake Garda, to the lagoon city. Experience the angular rocks of Marroche, rustic cottages and fabulous views of the mountain pastures. The untouched nature of Italy is your constant companion.
Verona – Lake Garda
With Lake Garda in mind, you'll be walking through the historic city of Verona, home to Romeo and Juliet and the Valpolicella wine region. In spring, the enchanting cherry blossoms line the path. Idyllic villas and wine cellars create the perfect feeling of Italian dolce vita!
Merano – Lake Garda
The promising alpine crossing has much to offer: hike along the mighty Dolomites and the beautiful Alto Adige pastures to Lake Garda and experience the diversity of Italy's natural landscape.
Merano – Lake Garda with charm
On your tour you will hike through idyllic villages and glittering mountain lakes, always accompanied by the mountain landscape of South Tyrol until you finally reach your destination, the Mediterranean Lake Garda.
Useful information

about your hiking tour on Lake Garda
Mediterranean climate

in the Lake Garda region
Its proximity to the Mediterranean Sea gives it a warm climate that is perfect for hiking. Especially in the summer, but also in spring, mild temperatures accompany the tours. The many hours of sunshine guarantee ideal hiking weather and blossoming nature along the trails.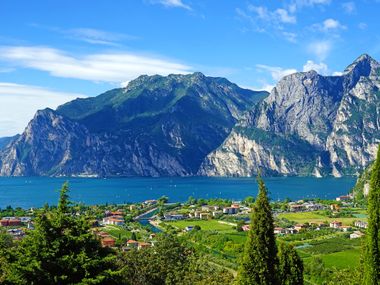 Varied hiking paths

around Lake Garda
Whether you enjoy cosy strolls in cities, or prefer exciting trails on the mountains and valleys – hiking trips on Lake Garda have something for everyone. Explore the diversity of the South Tyrolean landscapes with mountain trails and alpine atmosphere or stroll through the cobbled piazzas with a tasty Italian gelato. With the different types of trails from Eurohike, every hiking fan will find their perfect tour!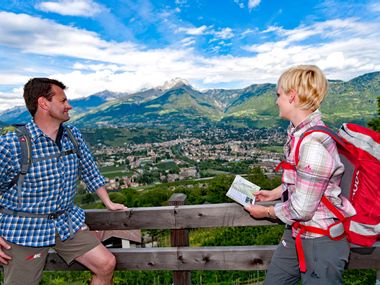 Venice and Verona are just two of the ancient features of northern Italy. From Roman buildings to gothic churches – if you keep an eye open on every corner you'll surely see lots of sights! The Italians are known for their art and joie de vivre and this is reflected in the cities. St Mark's Square and the Arena di Verona are definitely worth a visit!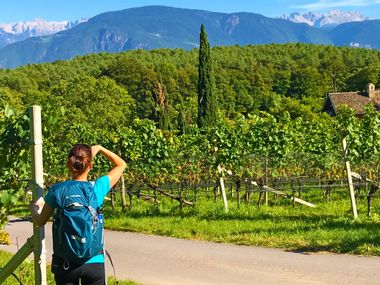 Top 5 attractions

around Lake Garda
Verona – home of Romeo and Juliet
Riva del Garda – the shores of Lake Garda
Venice – the lagoon city
Bardolino – wine enjoyment at its best
Gardaland – the largest amusement park in Italy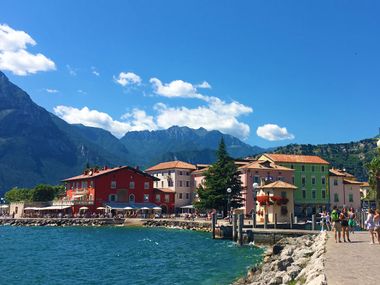 …that Lake Garda is located in three provinces – Trentino, Verona and Brescia?
…that the German poet Johann Wolfgang von Goethe visited Lake Garda and even wrote about its beauty?
…that with an area of 370km2, Lake Garda is the largest lake in Italy?
…that Lake Garda is home to a colourful variety of different fish species, which are served in the restaurants of the lakeside towns?
Questions and answers

about hiking holidays around Lake Garda
Sorry! No FAQs were found. Please try again with a new search term.
Our hiking holidays around Lake Garda are also ideal for hiking with dogs. The hiking paths and routes are dog-friendly and the accommodations are also looking forward to your four-legged companion. A hiking holiday with a dog around Lake Garda is guaranteed to be a wonderful experience.
Whether with a wonderful cappuccino or gelato in Riva del Garda, on the way along the fantastic hiking paths or while relaxing in your selected hotels and accommodations – hiking around Lake Garda becomes a particularly relaxing experience on a hiking holiday with luggage transfer. Hardly anywhere else can you enjoy the Italian way of life so intensely and experience a break from everyday life.
More popular hiking regions

in Italy