Our new
Eurohike Original Tours for 2024
From Füssen to Merano
Experience a magnificent journey across the Alps on our mountain hiking tour from Füssen to Merano. The first leg of your journey treats you to a breathtaking view of Neuschwanstein Castle as you cross the border into Ehrwald in Tyrol. On the very next day, you'll continue your adventure through the Gaistal Valley to Leutasch. Delicious alpine delicacies await you on this stage and even a refreshing Kneipp facility at the Salzbach stream at the end of the tour, wonderful! Well regenerated, you continue along the Tyrolean Jakobsweg pilgrimage route to the crossing on the Buchner Höhe, into the Inntal and finally to Landeck. On the fifth day of your active getaway, you'll hike to the Tri-border Stone, which marks the intersection of Italy, Austria, and Switzerland. From there, you'll continue to Reschen, home to the famous Reschensee and its submerged church. The final leg takes you from Naturns, first along a panoramic trail, then on a Waalweg (irrigation channel trail), and finally along the Tappeiner Promenade to the heart of Merano. Our tip: This hiking tour is also available for a hiking holiday with a dog.
Mountain Hiking: From Füssen to Merano | 8 days | Individual Tour | Departures daily from May to October 2024 | Starting at EUR 939 per person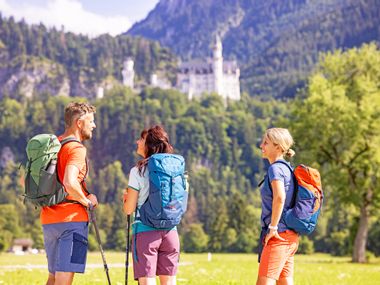 From the Alps to the Adriatic Sea
Experience a gorgeous hiking journey between mountains and sea on our new hiking tour in Friuli-Venezia Giulia. In just eight days, you'll immerse yourself in the local culture, cuisine, and nature, all at your own individual hiking pace. The starting point for this journey is the mountain town of Tarvisio in the tri-border region of Austria, Italy, and Slovenia. To kick off your active journey, you'll enjoy a cable car ride to the pilgrimage site on the sacred mountain of Monte Lussari. From the summit of Cima Cacciatore at an altitude of over 2,000 meters, you'll have a fantastic view of the surrounding mountain landscape. The next day, the route continues to the summit of Monte Cumieli and onwards to Gemona. On the following hiking day, you'll reach Udine. A historical trail guides you to Monte Quarin and through the picturesque wine-producing region to Gradisca d'Isonzo. The final two hiking stages offer especially beautiful routes. You'll march along the cliffs towards Trieste, passing by Miramare Castle, and on the last day, you'll hike along the ridge of Monte Stena, continuing all the way to the Slovenian border.
Walking: From the Alps to the Adriatic Sea | 8 days | Individual Tour | Departures on Saturdays from May to October 2024 | Starting at EUR 849 per person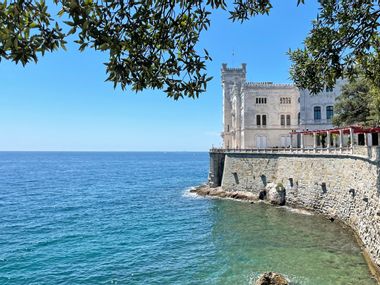 From Verona to Lake Garda
Our new hiking tour from Verona to Lake Garda is a delightfully curated tour designed for wine and culture enthusiasts. Right from the start, Verona offers numerous attractions and highlights waiting to be explored by you. These include, for example, the Arena, the balcony of Romeo and Juliet, the picturesque bridges Ponte Pietra and Ponte Scaligero, the Piazza delle Erbe, and the Scaliger Castle. The first two stages will take you first to Parona di Valpolicella and ultimately into the heart of the wine region, through picturesque vineyards, and finally to Fumane. The following day is all about exploring the Valpolicella region where there will certainly be time for a wine tasting. The last two stages will lead you to Cavaion Veronese, then to Bardolino on Lake Garda, and finally to the renowned town of Garda. It's the ideal place to conclude your hiking journey in a particularly relaxed and beautiful Mediterranean setting.
Moderate Walking: From Verona to Lake Garda | 7 days | Individual Tour | Departures daily from March to October 2024 | Starting at EUR 699 per person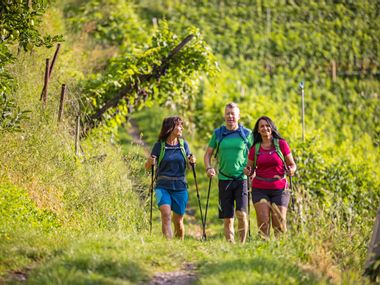 Rota Vicentina
Almost year-round, from February to November, you can look forward to our new hiking adventure along the Fisher's Path of Rota Vicentina in Portugal. Along the Atlantic coast, you'll discover not only plenty of fresh air but also tranquil coastal paths, nature reserves, and idyllic sandy beaches waiting for you. In this region, a diverse range of bird species call it home, and the beautiful melodies of these birds will accompany you on your journey. You'll hike from the coastal town of Vila Nova de Milfontes to Almograve, passing through pine forests and charming fishing villages on your way to the coastal town of Zambujeira do Mar. Look forward to the beautiful beaches on the next day of your hiking tour to Odeceixe, such as Alteirinhos, Carvalhal, or Machados beach. The route continues along the Seixe River delta, with the scent of nature and shrubs in the air, until you reach Aljezur in the Algarve region. Continuing towards the coast, the path leads to Arrifana and takes you past the spectacular coastal stretch known as 'Vale Figueiras' before reaching Carrapateira. On the eighth day, you'll reach the final destination of your tour and relax in Vila do Bispo, where you can reflect on this fabulous hiking tour.
Walking: Rota Vicentina | 8 or 10 days | Individual Tour | Departures on Wednesday, Friday, Saturday, and Sunday from February to November 2024 | Starting from EUR 679 per person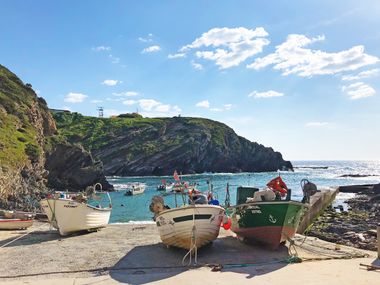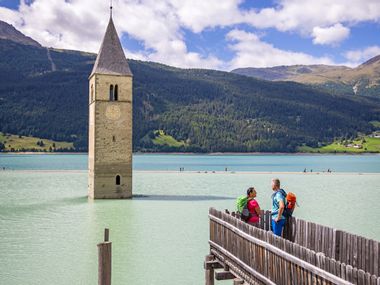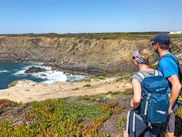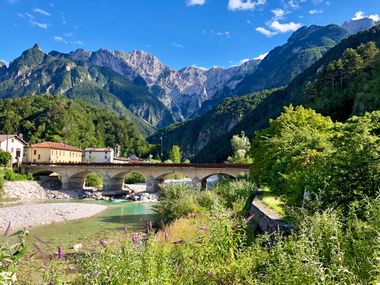 Our new
Hiking Tours with Charm

2024
Lechweg with Charm
Experience a fabulous hiking tour with unique cozy accommodations on our hiking tour Lechweg with Charm. Starting from Lech am Arlberg, your journey takes you first to Formarinsee at 1,793 meters in elevation, then on to Steeg, Elmen, Stanzach, and finally to Füssen. After each of the rejuvenating stages, you can look forward to special hotels with that extra touch of comfort. These include the 4**** Sonnblick Hotel in Lech am Arlberg with its exquisite Sonnblick SPA, the 4**** Lechquell Hotel Post in Steeg, offering an extensive wellness area and outstanding Austrian culinary creations, the 4**** Lechzeit Hotel in Elmen, where indulgence and tranquility take center stage, and the 3*** Hotel Föhrenhof in Stanzach, featuring a wellness oasis, cozy sun terrace, and modern-alpine design. That sounds like plenty of relaxation, indulgence, and the perfect escape while hiking along the Lechweg.
Walking: Lechweg-Path with Charm | 8 days | Individual Tour | Departures daily from June to September 2024 | Starting from EUR 1,199 per person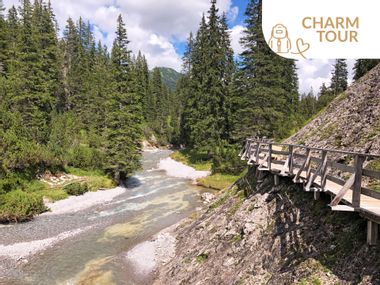 Crossing the Alps E5: Oberstdorf – Meran
Ever dreamt of hiking across the Alps at your own pace, powered by your own strength? And all while prioritizing comfort and staying in beautiful hotels? Our Alpine Crossing tour on the E5 with Charm turns your dream into reality. In eight days, you'll hike far away from the crowds, through partially high-alpine regions, and enjoy the full comfort of our selected hotels with their unique charm and havens for active relaxation after your trekking stages. Some of the charming accommodations include the 4**** Lechquell Hotel Post in the Lechtal Alps, featuring an extensive wellness area and excellent Austrian cuisine. In the Pitztal, you'll stay at the only 100% organic-certified hotel in the region, the 3*** Biohotel Stillebach. Pure holiday bliss awaits you at the 4**** Wiesenhof Garden Resort in the Passeiertal, where you can relax in the over 3,000 m2 wellness area after your daily stage.
Trekking: Crossing the Alps E5: Oberstdorf – Meran | 8 days | Individual Tour | Departures on Thursdays and Sundays from June to September 2024 | starting from EUR 1,599 per person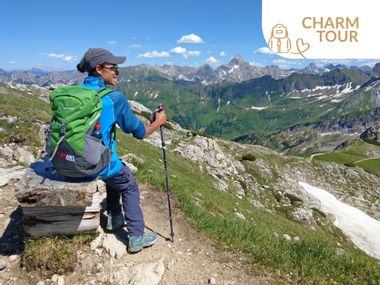 Picturesque Tuscany with Charm
Italy, and especially the regions in Tuscany, are perhaps among the most beautiful hiking destinations worldwide. Exploring this picturesque destination on foot allows you to do so at your own pace, with ample opportunities for delightful Italian breaks. The routes between Florence, Siena, San Gimignano, Volterra, and Cecina Mare are a feature in themselves, as there's hardly any other place where you can experience the region in such splendor. Your journey is complemented by the carefully selected hotels and charming accommodations, chosen with great care and attention to detail. This includes, for example, the 4**** Hotel Palazzo Squarcialupi in the village of Castellina in Chianti, with a wellness area, pool, and garden; the 4**** former convent La Locanda in the heart of Volterra; or the Tombolo Talasso 5***** Resort right on the Tuscan coast in Marina di Castagneto Carducci. Here, you'll enjoy a wonderful conclusion to your hiking tour with a private beach, outdoor pool, and thalassotherapy center.
Moderate Walking: Picturesque Tuscany with Charm | 8 days | Individual Tour | Departures on Saturdays from March to October 2024 | starting from EUR 1,289 per person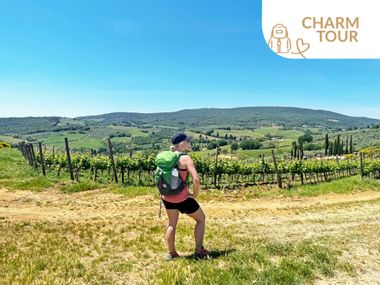 Moselsteig Trail with Charm
A wonderfully mild hiking climate, excellent wine, breathtaking panoramas of the Mosel River bends, well-maintained hiking paths, and wonderfully charming accommodations are the building blocks of our hiking tour on the Moselsteig Trail. Not only is the route between Trier, Cochem, and Koblenz a delight, but also the region's typical cuisine and the selected charming hotels complete your hiking getaway on this certified premium hiking trail in central Germany. Accommodations include our selected hotels such as the 4**** Villa Hügel in Trier with spa area and Skypool, the Hotel Moselschlösschen 4**** Spa & Resort with its own sauna world and regional specialties at the 'Zum Schlösschen' restaurant, as well as the 5***** FÄHRHAUS Hotel in Koblenz, complete with a spa for active rejuvenation after a day of hiking in nature.
Mountain Hiking: Moselsteig Trail with Charm | 8 days | Individual Tour | Daily departures from March to October 2024 | starting from EUR 1,389 per person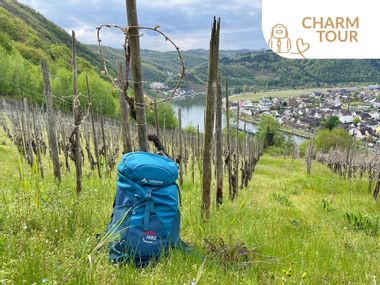 Additional new
Hiking Tours in Europe

2024
Haute Route: From Zermatt to Val d'Herens
A trekking tour designed for experienced mountain hikers awaits you on our new Haute Route hiking adventure. On this tour, you'll experience Switzerland in a truly special way – on foot in alpine terrain. Starting from Zermatt, the route takes you on an eight-day tour with six daily stages along spectacular high-altitude trails, over mountain passes, and right through the Swiss mountain landscape to Val d'Hérens. To ensure that this tour becomes a rewarding active experience, we recommend having excellent physical fitness, endurance, mountain experience, and freedom from vertigo. Ice axes or crampons are however not needed for the stages.
Highlights of the tour include crossing the Charles Kuonen Suspension Bridge in the Matter Valley, Europe's longest suspension bridge, overnight stays in mountain huts and idyllic mountain villages, magnificent panoramic views of the mountain ranges and wide valleys, as well as the typical Swiss mountain cuisine and warm hospitality of the locals. Leave behind the daily grind and embark on a unique trekking adventure in Switzerland that will leave you with beautiful memories for a long time to come.
Trekking: Haute Route | 8 days | Individual Tour | Daily departures from June to September 2024 | starting from EUR 1,429 per person
Lycian Path
If you love the South, Mediterranean flair, cultural highlights, and, above all, hiking along the coast, then this hiking tour on the Lycian Way in Turkey will thrill you. You begin your journey in the port city of Antalya, which has plenty of cultural attractions and a charming old town to offer. The routes take you on well-marked hiking trails, along coastal paths high above the sea, to peaks in the Taurus Mountains, past historically significant cultural landscapes, to cultural monuments, through fragrant nature, and to picturesque beaches. Every day brings numerous highlights, and there's guaranteed time for a refreshing swim break at one of the beaches or by the Ulupinar River. The beautiful Mediterranean panorama is best enjoyed in the evening during sunset. You can savor the typical specialties of Turkish cuisine and, as a finale, enjoy a glass of Raki or a Çay tea - that's how you make your Mediterranean getaway perfect. This holiday is particularly recommended for hiking in spring and autumn, as the tour is available from March to November.
Walking: Lycian Path | 8 days | Individual Tour | Daily departures from March to June and from September to November 2024 | starting from EUR 659 per person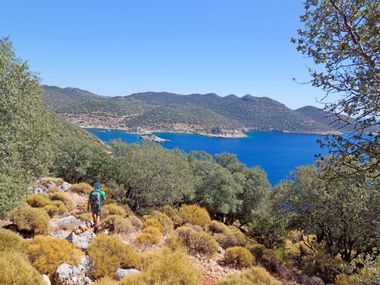 Dingle Way
You'll be exploring one of the most beautiful long-distance walking trails in Ireland on our new hiking tour. The Dingle Way takes you across the Dingle Peninsula, starting from Tralee, through diverse flora, over rivers, along secluded beach paths, into picturesque villages, and through a wonderful nature reserve until you reach Brandon Pier. The entire trail is 180 kilometers long, and on our active journey, you'll hike the most beautiful 110 kilometers of it. Here, you experience the authenticity and hospitality of the region in a particularly genuine way and at your own individual pace. On this tour, everyday life becomes a distant reality after just a few hours in nature, and there's plenty of time on the daily stages, which can be up to 21 kilometers, to let your thoughts wander.
The daily walking times are planned for up to six hours, with relatively modest changes in elevation. A faithful companion on the most popular hiking trail in Ireland is the region's traditional music, which you can enjoy in an Irish pub along with a pint of Guinness and an Irish Stew. Look forward to eight days of pure nature and Irish flair between sky and sea.
Walking: Dingle Way | 8 days | Individual Tour | Daily departures from March to October 2024 | starting from EUR 1,099 per person