Tips for going
mushrooming
Mushrooms have been a fixture on our menu for many centuries and are still a particularly popular ingredient in numerous dishes. Mushrooms and fungal plants are not vegetables or fruits, but have their own genus and are called 'fungi'. But if you want to go on the trail of mushrooms, you need to know a few things about them. Our recommendations and tips can help you make mushroom hunting easier and ensure safe handling of mushroom finds.
Mushroom picking and
where they grow
For picking: In general, the delicacies of the forest such as mushrooms or berries belong to the respective forest owner. Please find out in advance whether collecting is permitted in the desired area. In national parks or nature reserves, picking may even be prohibited or some types of mushrooms are protected and may not be picked.
Use a basket for mushroom picking, plastic bags make mushrooms spoil quickly.
Where do they grow: Mushrooms grow best in warm, humid weather and in forest- and meadow areas, especially spruce forests. It is best to go mushrooming about two days after a rain shower.
Please carefully twist the mushrooms out of the ground or cut them off with a small knife and do not pick or pull them out. Important note: please do not cut off the mushroom stem as this is an important identification feature.
Unknown/poisonous mushrooms: please do not crush them and leave them there. Here it is important to get a good overview so that you can distinguish between poisonous and non-poisonous mushrooms.
Season,
storage

and shelf life
Season for mushroom hunters: Mushrooms generally have their main season in late summer and autumn. However, there are numerous types of mushroom where you can also hunt for mushrooms from June to November, such as: chanterelles, porcini mushrooms or parasol. Mushrooms can also be found as early as August.
Mushrooms should be cleaned right away in the forest and only as many mushrooms should be picked as can be used as soon as possible.
Shelf life: Mushrooms should be processed as soon as possible after picking. Do not put thawed mushrooms back in the freezer.
Well-cooked mushroom dishes can easily be reheated the following day, provided they are placed in the refrigerator immediately after cooling down.
Mushroom knowledge
online
A helpful way to check the collected mushrooms is the online platform 'Pilzfinder.at' or the 'Funga Austria Forum', as well as the 'Austrian mushroom database'. On these pages you can have the mushrooms you have found identified and even upload a photo, which then will be published. There is also the option of contacting a fungus advice centre to have the fungus identified.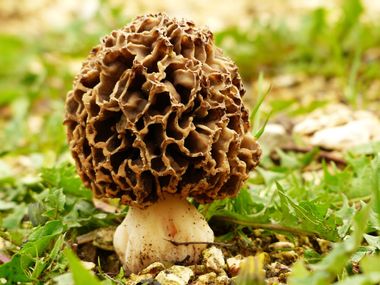 The
most popular

edible mushrooms
There are many dishes and ways of preparing edible mushrooms. The best thing about the diverse mushrooms is that they not only taste good, but are also healthy and provide lots of vitamins and nutrients. Mushrooms consist of water and fibre, are a valuable source of protein and minerals, provide carbohydrates, contain hardly any fat and keep you full for a long time. A mushroom dish is therefore also an ideal meal after an active day of hiking in nature.
The most popular edible mushroom varieties are:
Porcini mushrooms
Chanterelles
Boletes
Pearl mushroom
Parasol
Edible morel
Meadow mushroom
Oyster mushroom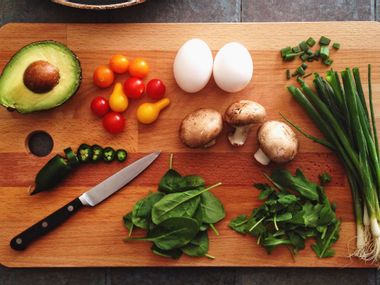 The most beautiful hiking holidays for
mushroom pickers
Nature lovers, active connoisseurs and hiking fans can look forward to a special time of the year starting in late summer – the mushroom peak season. A hike or a relaxed walk in nature can be wonderfully combined with mushroom hunting. We will now disclose where you can experience mushroom hunting on a hiking holiday in Austria, Bavaria or South Tyrol.
Hiking and mushroom picking in
Austria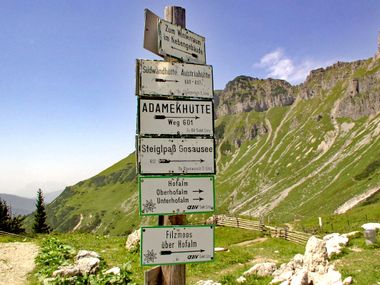 On the trail of
Bavarian

mushrooms by foot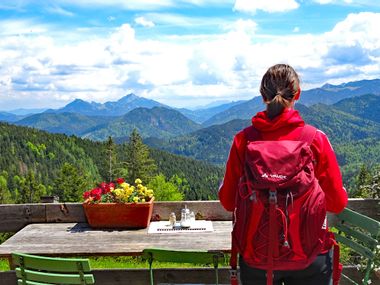 Wine-, Hiking- and Mushroom Bliss in
South Tyrol
In South Tyrol, a little further South, there are also fantastic natural sceneries with the delicious treasures of the forest, which are best explored on a leisurely hike. By foot you are on the trail of mushrooms on your hiking holiday South Tyrolean Wine & Alpine Pasture Trail, 7 days. During Panorama Hiking in the Vinschgau, you can experience the most beautiful corners along the hiking route from Mals to Schluderns, Taufers, Burgeis and back to Mals, including wine, hiking and mushroom enjoyment in South Tyrol.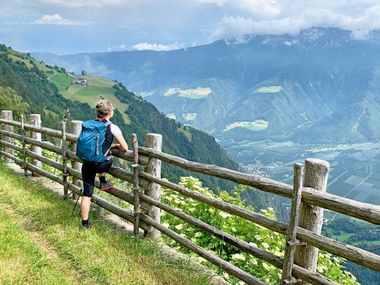 Mushroom picking as
a treat

for body, mind and palate
Indeed, going mushrooming has become a real hobby for many people. It harmoniously combines the relaxing movement in nature and at the same time ensures that you can clear your head and concentrate fully on the here and now. The day spent outdoors is rounded off with a delicious mushroom dish – a hike could not end better. And if you are not sure about the type of mushroom, it is advisable to leave the forest dweller alone.