Basic information

about Graubünden
From lakes to peaks: the largest canton in Switzerland is home to around 937 mountain peaks, 615 lakes and 150 valleys – that speaks for itself. Furthermore, the only 4,000 metre peak in the Eastern Alps is located in Graubünden – the Piz Bernina at around 4,049 metres. Thus, the gentle sport of hiking can be undertaken particularly well in beautiful Graubünden. Since the canton lies entirely in the Alps, you will find varied flora and fauna in the region. Graubünden is particularly well known for the variety of game such as deer, chamois and ibex, as well as marmots. The nature in Graubünden offers just the right thing for every hiker who is hungry for exercise, from leisurely hiking trails to natural mountain hikes and hiking in the Alps away from the crowds. Individual active holidays in Graubünden – the perfect hiking holiday without luggage in Switzerland.
The most popular hiking tours

in Graubünden
An absolute classic among hiking trails is the popular Via Spluga, 7 days. The long-distance hiking trail has a 2,000-year-old history and as a mule track was once considered the shortest route across the Alps, making it an important connection between Graubünden and Italy. But the Via Spluga not only offers cultural attractions, the hiking route also promises delights for the eyes and the palate in terms of nature and cuisine. Your first day's stage takes you from Thusis through the once most feared section of the historic trail, over 321 stone steps and rocks to Andeer. From there you walk to Splügen and on the fourth day you can enjoy a circular hike on the plateau of the Suretta lakes. The next day you experience an alpine pass hike on the impressive mule track over the Splügen pass and later reach your stage destination Isola/Madesimo. The last day of your hiking tour takes you to southern Chiavenna, where you can experience pure Italian flair. The hiking tour can also be experienced as a hiking tour with a dog.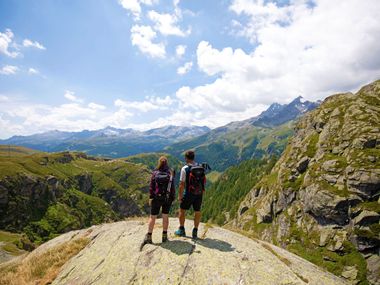 Experience a masterpiece of railway construction of the Rhaetian Railway in Switzerland up close and hike in eight days and six stages along what is probably the most impressive mountain railway in the world. The king's stage is the Via Albula & Bernina long-distance hiking trail, which runs along the Albula and Bernina lines. Great landscape panoramas and wonderful routes await you on your hiking tour. Starting from Thusis, you march through the 'Schinschlucht' to Tiefencastel, on to Bergün, the Mecca for railway enthusiasts, to St. Moritz, Alp Grüm, Poschiavo and to your final destination, Tirano in the Italian region of Lombardy. The best thing about this walking holiday? If you wish, you can often shorten the daily stages with the Rhaetian Railway.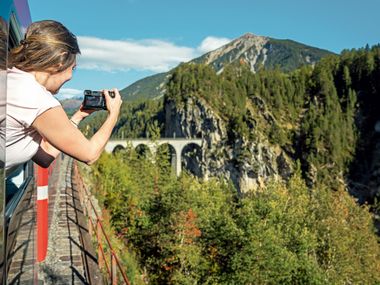 Facts and details

about hiking tours in Graubünden
Lage: Südostschweiz, gänzlich im Gebiet der Alpen
Höchster Berg: Piz Bernina mit 4.049 Metern Höhe; einziger Viertausender der Ostalpen und Graubündens
Besonderheiten: Größter prähistorischer Bergsturz der Welt (Flims); flächengrößter Kanton der Schweiz
Klima/Reisezeit: Kontinentales Klima; beste Wanderzeit mit milden Temperaturen und wenig Niederschlag ist von Mai/Juni bis September/Oktober
Kulinarik: Die eigenständige Bündner Küche bietet herrliche regionale Spezialitäten, die sich von der üblichen Schweizer Küche abheben. Typische Köstlichkeiten sind luftgetrocknete Fleischspezialitäten oder das Maluns, ein bekanntes Kartoffelgericht der Region. Als Süßspeise ist die Bündner Nusstorte besonders beliebt und als bekanntes Getränk wird gerne die Likörspezialität Röteli serviert.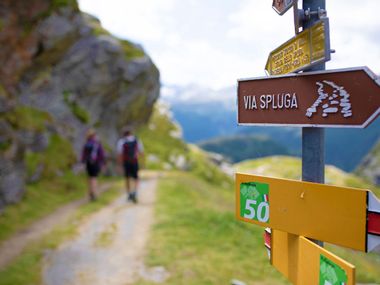 The hiking holidays Via Spluga, 7 days leads partly through alpine terrain and as a mountain hiking trail requires a good basic level of fitness as well as surefootedness and a head for heights. Appropriate hiking equipment and weather-appropriate clothing is recommended. The historically marked routes along the Via Spluga are well signposted throughout and promise hiking enjoyment on easy hiking trails and good paths. A good basic level of fitness is required for the somewhat longer ascent and descent on the last two daily stages. Both Eurohike tours in Graubünden are possible to enjoy on a hiking holiday with a dog.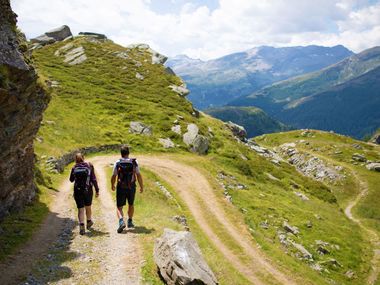 Questions and answers

about hiking holidays in Graubünden
Sorry! No FAQs were found. Please try again with a new search term.
Since Graubünden lies entirely in the Alps and the hiking tours take place at different altitudes, our hiking trips can be booked on the following dates:
Graubünden lies entirely in the Alps and therefore offers wonderful conditions for a successful hiking holiday. Particularly beautiful hiking tours can be experienced on the Via Spluga between Thusis and Chiavenna or on the Alpine Panorama Trail from Appenzell to Einsiedeln.
In Graubünden you can experience these individual hiking tours with Eurohike:
The good hiking paths, dog-friendly accommodation and paw-friendly routes in Graubünden ensure a successful break for you and your dog. All our hiking tours in Graubünden are wonderfully suited for hiking with dogs.
Graubünden is not only the largest canton in Switzerland, but also a region with perfect conditions for hiking in the open air. There are around 937 mountain peaks, 615 lakes and 150 valleys and gorges, such as the impressive Viamala Gorge, which you can experience on our hiking tour Via Spluga. In addition, there is a pristine flora and fauna, as well as good hiking routes.
In culinary terms, the cuisine in Graubünden stands out a little from the typical Swiss cuisine. Graubünden scores with a large variety of game, which is also reflected in the food. You can taste regional specialties with air-dried meat or the maluns, a popular dish with potatoes, a dish from the original rural kitchen. The Bündner nut cake or the liqueur specialty Röteli will be just the thing for anyone with a sweet tooth.