Picturesque places like the Werraquelle (source of the Werra River) and the Drachenschlucht (Dragon's Gorge) complement the greenery of the Thuringian Forest. The tour takes you to the Sommerrodelbahn (summer toboggan run) in Ernstthal and to the midpoint of the Rennsteig trail, where a museum awaits those interested in its history.
Explore Luther city Eisenach with its fortress during a stroll through the city.
Short train journey to Hörschel. In accordance with old tradition, this is the trailhead of the Rennsteig trail. The route takes you into the little mountain town of Ruhla, renowned for its historic watch manufacturing tradition. You continue on tranquil paths via the 'Hohe Sonne' and reach Ruhla-Ascherbrück. We definitely recommend a detour to the impressive dragon gorge.
Past Ruhlaer Häuschen you walk to mountain Großer Inselsberg, which measures 912 m at his highest point. From there a steep climb is awaiting you, but you will be rewarded with a fabulous view. This popular section leads down to Grenzwiese, Dreiherrenstein and on to Ebertswiese with its mountain meadows and lakes.
You start at 730 m above sea level and walk comfortable across the Rennsteig through the Thuringia Forest, past Krämerrod and Wachsenrasen, and on to the climatic health resort Oberhof. In the near, the Grenzadler, a centuries-old landmark is awaiting you, today it is marking the DKB-skiing arena. The popular winter sports resort is inviting you for relaxation and offers many wellness treatments for tired legs.
Today the highest point of the Rennsteig is awaiting you. You walk up onto 973 m. The walking tour leads past idyllic meadows with huts and springs, which invite you for a break. Before you reach Frauenwald you pass train station Rennsteig, where special trains go into the nature.
From Frauenwald you pass mountain Großer Dreiherrenstein. The roads from Illmenau, Neustadt, and Allzunah are meeting here. In Neustadt the centre of the Rennsteig is located in the Rennsteig museum. From Thuringia Forest you continue into the Thuringia Schiefergebirge (shale mountains). You cross the Schwalbenhauptwiese and meet a hollow way, which has been formed through elution and usage.
You walk from the Rennsteig lookout to Friedrichshöhe. The village is imbedded in deep Thuringia Forest and well known as smallest independent village of the German Democratic Republic as well as for its absolute silence. A detour to the spring of river Werra is worth is before you continue your tour via Limbach to Neuhaus.
Other variations of this tour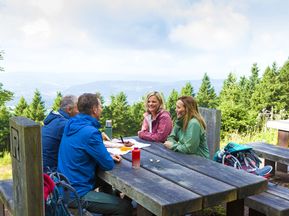 ©
Thüringer Tourismus GmbH - Guido Werner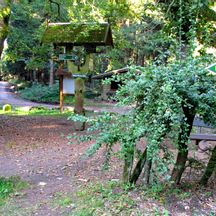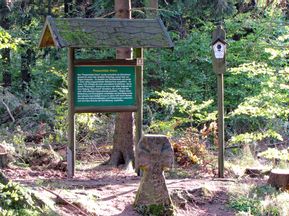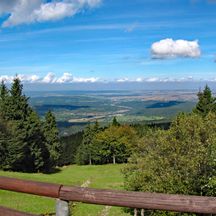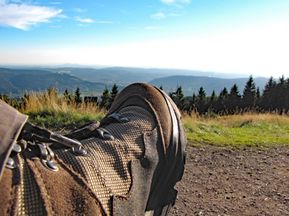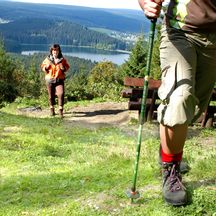 The level of the hiking tour is easy to medium. You walk mainly on good walking paths and ridgeways, which offer beautiful views as well as in silent and untouched nature. If you are in a good shape the daily tours can be managed without difficulties.
Category: beautiful 3*** hotels, guesthouses and pensions
Prices per person in EUR
Further details about this tour
Included
Accommodation as already mentioned
Breakfast
Luggage transfer
Transfers according to program
1 Train fare Eisenach - Hörschel
1 Rennsteig Hikingpass
Carefully elaborated route description
Detailed travel and tour documents 1x per room (German, English)
Service-Hotline
Optional extras
Return transfer to Eisenach (min. 2 people), costs per person from Neuhaus EUR 125, reservation required, payable locally.
Arrival / Parking / Departure
By train to Eisenach and a short walk (approx. 10 minutes) to the hotel.
Frankfurt airport
Car park: limited number of hotel car park, approx. from EUR 7 per day, no reservation required. Free car park near the hotel or public parking garage for approx. EUR 70 per week.
Back to the starting point by train or bus, duration approx. 3.5 hours from Neuhaus.
Things to note
Minimum number of participants: 2 people
Tourist tax, if due, is not included in the price
Further important information according to the package travel law can be found here!
This tour is a partner tour.

One call to vacation bliss
Monday - Friday: 09:00 AM - 05:00 PM
Other tours

that might interest you