Hiking holidays

in Central Germany
The Romans already had an appreciation for the area around the Rhine and Moselle. The fertile soil offered everything the vines needed to grow. Grape harvesting is still practiced today in Germany's number one wine region. With success: the varieties are valued all over the world. You hike on this very ground during your holiday in Rhineland-Palatinate. Sometimes past meadows of flowers, sometimes through lush grassland. Discover the hiking wonder Rhineland-Palatinate and, amongst other things, the Moselsteig and the Rheinsteig with Eurohike while hiking without luggage!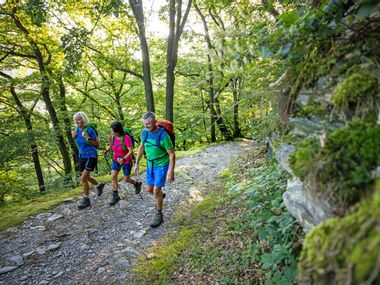 Did you know that Rhineland-Palatinate is one of the most forested parts of Germany? The best conditions for shady walks and days of hiking. Those interested in culture will find very special highlights along the hiking routes. In their planning, the Eurohike team ensures that you don't miss one highlight of the region. One castle is lined up after another. It's also practical that your luggage is already waiting for you at your next hotel so you can devote yourself to undisturbed cultural enjoyment.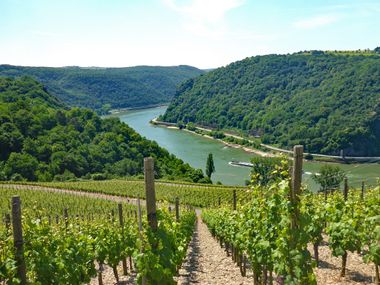 Moselsteig and Eifelsteig Trail
The mild climate works well with the Rhineland-Palatinate region. The temperatures are almost Mediterranean, perfect for hikers. The area not only produces tasty fruit and excellent wines, but also numerous hours of sunshine. Even in the spring, hikers can look forward to a mild climate and blooming flowers. This is good for the soul! Wine plays an extremely important role in the Rhineland-Palatinate. You will often come across it while hiking along the Moselsteig. Traditional vineyards and winegrowers bring you closer to the production route from vine to glass. Even more comfort awaits you in our selected hotels and accommodation on our hiking holiday Moselsteig Trail with Charm.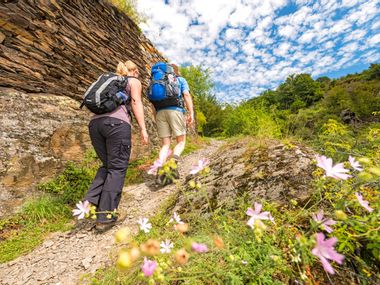 ©
Rheinland Pfalz Tourismus Gmbh Dominik Ketz
The high-altitude hiking tour via the ridge of the forest 'Thüringer Wald' has been a highlight for hiking enthusiasts for over 100 years. Experience nature up close and avoid a long journey there – since the hiking paradise is in such incredible proximity. Also during your hiking holiday along the Rennsteig you are accompanied by water in the shape of the two rivers Werra and Saale at every turn. With Eurohike you walk the entire distance of 170 Kilometer of the Rennsteig, 11 days or choose one of the two shorter alternative route options Rennsteig, 8 days or Rennsteig, 5 days. Be asured that with the shorter option amazing sections await regardless. The 'Rennsteig'-high-altitude paths lead you throughout through quiet, unspoilt nature so incredibly beautiful that even a saga was written about this path.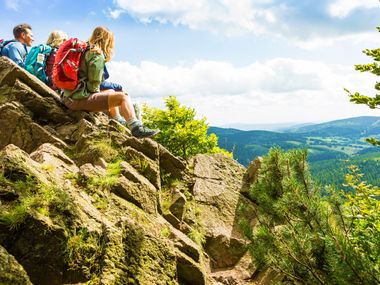 ©
Thüringer Tourismus GmbH - Guido Werner
The 'Malerweg'-path is a popular hiking path located in Saxon Switzerland and can be started as chosen. We recommend a start situated directly at the river Elbe namely in the historic little town of Bad Schandau. The medieval town centre features numerous cafés, restaurants and shops and invites you to a stroll through the town. Then onwards to the spa town of Rathen and to Königstein until Krippen. After a fascinating 70 kilometres along the Malerweg-path, 7 days you conclude your hiking week by returning to Bad Schandau. You walk along the trails of times long gone by. Already world-famous painers such as Caspar David Friedrich and Ludwig Richter knew how to appreciate this diverse and idyllic region. Hence this famous path owes its name to precisely these Romantics. Bizarre sandstone rock formations, romantic forests and the placid beauty of the scenery inspired the Romantic painters then to world-renowned paintings. Along your hiking holiday you are constantly accompanied by the river Elbe and walk through stunning places in the Elb-sandstone mountains. There is a reason why the Malerweg-path was crowned Germany's most beautiful hiking path in 2007. Discover the most beautiful part of the Malerweg-path with Eurohike.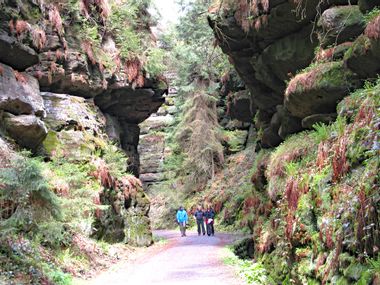 ©
Lisa Frank, AugustusTours
Our hiking tour Magical Spessart, 8 days guides you between Gemünden and Aschaffenburg on wonderful hiking paths through the unspoilt nature in Central Germany. The route leads past historic castles and through idyllic small towns and you always hike at your individual pace. In the evening you can enjoy the hearty cuisine of the region and relax in our selected accommodation. Experience for yourself how magical hiking in the Spessart can be.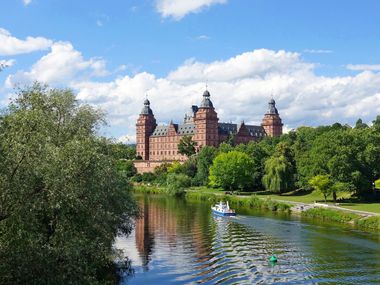 Questions and answers

about hiking holidays in Central Germany
Sorry! No FAQs were found. Please try again with a new search term.
The ideal season for hiking in Central Germany is between April and October.
In Central Germany there are numerous hiking regions and hiking paths that are particularly worth experiencing. Some of them have been designated as quality hiking trails or premium hiking trails. For example, the Rheinsteig Trail is a premium hiking trail and the Moselsteig Trail is a quality hiking trail in Rhineland-Palatinate. The Rennsteig Trail is an award-winning quality hiking trail in Thuringia.
Our individual hiking tours in Central Germany offer a special active experience for all levels of hiking. Here you will find an overview of selected hiking holidays in Central Germany:
Central Germany is an ideal travel destination for a successful hiking holiday with a dog. Almost all of our hiking tours are suitable for hiking with dogs, guarantee paw-friendly hiking paths and routes, as well as dog-friendly hotels.
Germany is home to a total of 51 UNESCO World Heritage Sites. Many of them are located in central Germany such as:
The old beech forests of Germany
Classic Weimar
The Naumburg Cathedral
The Erzgebirge mining region
The Wartburg in Eisenach and others
Fantastic hiking paths, some even rated as quality- or premium hiking trails, impressive landscapes, unforgettable panoramic views and excellent wines from the region – hiking in Central Germany offers a wonderful break in nature.
Aside the hiking paths numerous cultural highlights, inns and restaurants with traditional dishes and winegrowers with the best grape juices in the region await you.
Your dog shouldn't be missing on a multi-day hiking holiday with luggage transfer? No problem, because almost all of our individual hiking tours are suitable for hiking with a dog.