The Rosenlaui Glacier Gorge, the Wetterhorn, and the Eiger North Face are just some of the impressive sights along the Bear Trek. After your hikes, including those to the Blüemlisalp and Oeschinen Lake, you can relax in our charming hotels.
Take the post bus to Rosenlaui, where the first route commences via Große Scheidegg to Grindelwald, always with the magnificent panorama of the Threesome Eiger, Mönch and Jungfrau.
Start the day with an ascent on the 'Eiger Nordwand' to Kleines Scheidegg. Follow the steep path that finally leads to Wengen.
Short trip to Lauterbrunnen and from here by train to Mürren. The trekking route leads past the Spillbodenalp to the Rotstockhütte. After a short stop for refreshments, climb the Sefinenfurgge and descend spectacularly to the Pochtenalp or the Griesalp.
Today you join the Queen's stage – a climb up to Hohtürli. After a long and steep ascent up to 2.843 m the alpine cabin on Blüemlisalp offers sustaining meals. Via Hohtürli and the moraines of Blüemlialp glacier you walk down to Öschinen Lake. Continue to Kandersteg (alternative from Öschinen Lake: take the cable car downhill).
Take the mountain railway up to Allmenalp, then ascent to Bonderchrinde. A stunning panorama view of the surrounding summits is a well earned reward. Continue downhill to Adelboden.
Today you end the Bear Trek with a walking tour from Adelboden via Hahnenmoos to Simmental. At the foot of the Wildstrubel you spend the last night in the beautiful Berner Oberland.
Other variations of this tour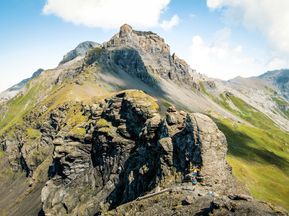 ©
Switzerland Tourism/Ann Ziegler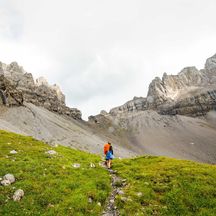 ©
Switzerland Tourism/Kevin Wildhaber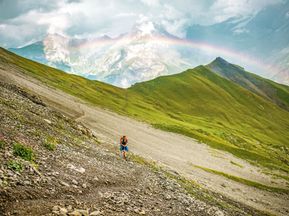 ©
Switzerland Tourism/Kevin Wildhaber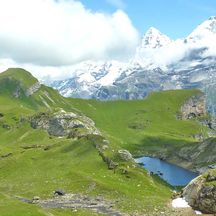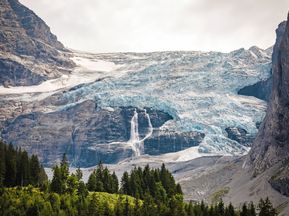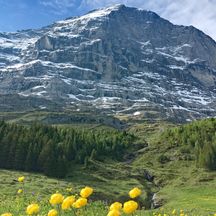 Sure footedness, a good head for height and good fitness level is required for this alpine hiking tour. Some shortcuts are available if the weather is bad.
Category A: pretty middle class hotels, 1x traditional mountain inn (shower/toilet on the corridor)
Category B: pretty guesthouses and B&B´s (shower/toilet partly on the corridor)
Prices per person in EUR
Further details about this tour
Included
Accommodation in booked category
Breakfast
Luggage transfer (1 piece of luggage per person)
Carefully elaborated route description
Detailed travel documents 1x per room (German, English)
App for Navigation and GPS-data
Service hotline
Arrival / Parking / Departure
By train to Meiringen and in a few walking minutes or short taxi transfer to the starting hotel.
Zurich airport.
Parking: chargeable car park at the mountain railway, approx. EUR 5 per day. No reservation.
Return from Lenk to Meiringen by train, duration approx. 3 hrs.
Things to note
Tourist tax, if due, is not included in the price
Fares with public transport, mountain railways and cable cars, approx. EUR 60 per person
Further important information according to the package travel law can be found here!
This tour is a partner tour.
Join us in achieving greater sustainability by choosing our digital route book, rather than the printed version. As a small thank you we will give you a discount of EUR 20 per room.

"I look forward to making your vacation dreams come true."
One call to vacation bliss
Monday - Friday: 09:00 AM - 05:00 PM
Other tours

that might interest you