With pattering rain and cloudy skies we started our first stage to Nals! With perfect hiking equipment, even rainy hiking days are no obstacle to enjoying the day. We hiked along the Waalwege, along which you can see centuries-old waterways created for irrigating fields and orchards. This route is part of the St. James Way, which is marked by a shell symbol on some signposts.
Small terraces with fruit trees interrupt the forest along the way, including some little huts where we enjoyed typical 'Brettljause' (cold meat and cheese plate) and a glass of wine. Exciting highlights such as the famous apple producer of Lana, ruins, castles and waterfalls can be seen from the path.
In contrast to the first day, sunshine and summer temperatures awaited us in the morning of the second stage. Along the forest paths, lined with the famous Dolomites, we took a break at the castle and enjoyed a cappuccino in the local café. The Mediterranean, hilly landscape to the lake offered a lot of photo opportunities! This stage was one of my personal highlights, as the route was varied and pleasant and Lake Caldaro was simply beautiful!
I would like to say a big thank you to the hoteliers and innkeepers who gave us a warm welcome on our tour. We were also able to experience the exciting and funny stories of the region from the wine growers we met in the Kaltern Cantina.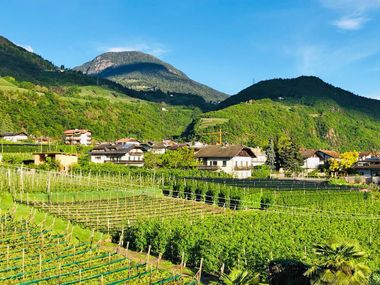 I will remember the beautiful impressions of this tour for a long time.
Your Isabella