From Alba through the
vineyards

to Treiso
We start the morning full of anticipation about our hiking tour. Over picturesque vineyards and the well-known village of Barbaresco we travel to Tresio. Along the way we come across many wonderful views of the hilly landscape. Here we also discover the so-called hail cannons. If a large thundercloud approaches, these machines shoot a chemical mixture kilometres up into the clouds. By doing so, severe storms can be prevented, and the delicate vines can be protected.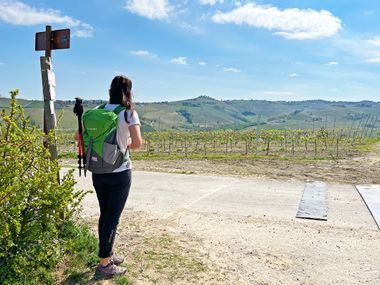 In the second accommodation BB Ca Tupin we are warmly welcomed by the two hosts. We also meet our lovely colleagues from the Piedmont Station, who have just delivered the luggage of the hiking guests. Together we toast the first successfully completed hiking stage with a good glass of red wine. After dinner, we enjoy one of the most beautiful sunsets as we watch the sun slowly disappear behind the vineyards.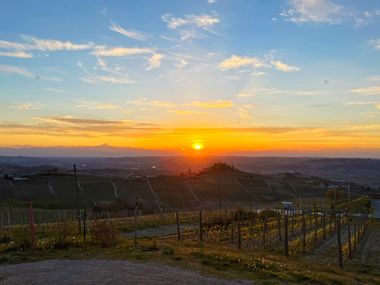 Through amazing
hazelnut groves

and small villages
The next morning, we enjoy a hearty Italian breakfast before we take on the next kilometres of hiking over the hilly landscape through vineyards, hazelnut groves, forests and small villages. The famous hazelnuts can be found on all restaurant menus in various forms. On the way we greet dogs and donkeys again and again. The peaceful nature invites us to take a small pause, to take in the landscape of the Langhe.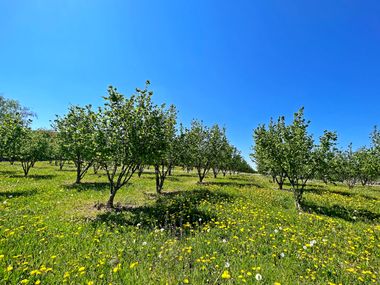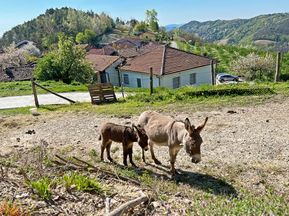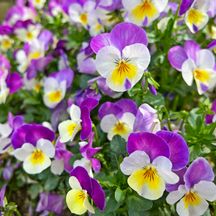 During the hiking tour we benefit from three organised transfers. These are carried out at the start of the day's stage or after completing it to the next accommodation, so that the hikes are not too demanding. Afterwards, there is enough time to relax at the pool or explore the surroundings at the accommodation.
Another highlight of the hiking tour is definitely the wine tasting at Marchesi di Barolo, in the second last destination of Barolo. At lunchtime we try three special wines. At the end we take a guided tour of the wine cellar and gain an insight into the history of wine.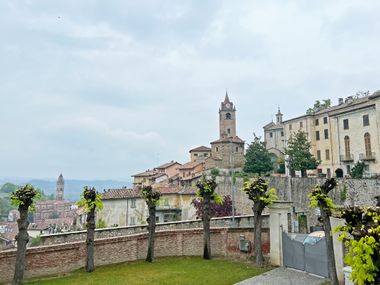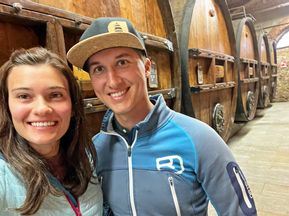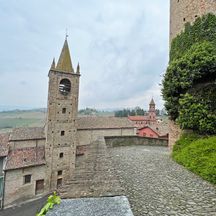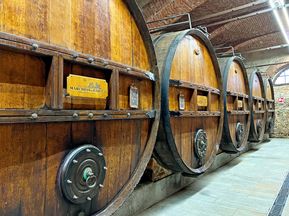 On two days we had no luck with the weather. Although it was foggy and a bit wet, we had a nice day of hiking - as we all know, there are only bad clothes and no bad weather 😊
Tips

about the hiking tour
As the routes mostly lead through nature and past small villages, we recommend taking enough provisions with you. This gives you the additional advantage of being able to stop spontaneously at beautiful places!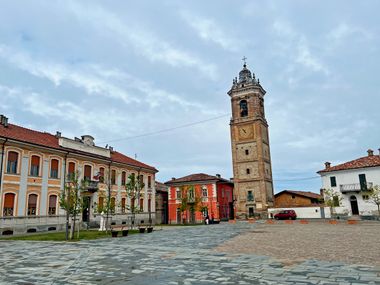 We enjoyed our hiking days in Piedmont very much! The hospitality as well as the good food in all accommodations along the route made the holiday a special experience that we will always look back upon fondly.