Breathtaking views over the idyllic mountain lake to the imposing Dachstein are included in the tour of the Gosau area. Not least for this reason, the UNESCO World Heritage area of Hallstatt Dachstein in the Salzkammergut is a popular destination for young and old.
The area is comprised of a total of three lakes: the front and the rear Lake Gosau, as well as the Gosaulacke. Framed by the imposing Dachstein massif with white glaciers, you get a unique view into the beautiful mountains of the Salzburg Dolomites.
The crystal clear mountain lakes are surrounded by the Gosaukamm, a small mountain range in the Dachstein mountains. The rock formations form the border between the regions of Salzburg and Upper Austria. The Gosaukamm offers a unique backdrop over the Gosau Valley with its lake-filled landscape.
Tours in the Gosau region
Walks along the Gosau Lakes impress with unique nature and spectacular views. The region is very popular with hikers during the day, but in the evenings you can enjoy the breathtaking scenery in peace.
As soon as you return from a day of hiking, the Gosau Lakes invite you to take a dip.
With Eurohike hiking tours you can also come to the Gosau Lakes and admire the beauty of nature:
Salzalpensteig 2: Start the tour from Lake Königssee to Hallstatt and walk along the beautiful Gosauglamm. You can expect romantic huts and unique views of the Tennengebrige, the Dachstein glacier as well as many other impressive mountain ranges.
Dachstein Mountain Trail: This hiking tour takes you from the Ramsau along the Gosauglamm and on to Hallstatt and Bad Goisern until you finally get back to the Ramsau. Atmospheric mornings, rocky peaks of the glacier region and impressive views await you during your hiking holiday.

10 Lakes Trekking: During your hiking trip in the Salzkammergut a new, cool lake awaits you each day. One of the highlights is the circular walk in the Gosau Valley, where you enjoy overwhelming views of the Dachstein and later the Gosaukamm.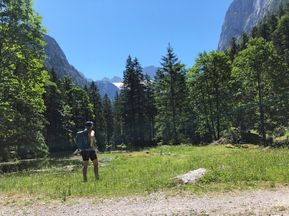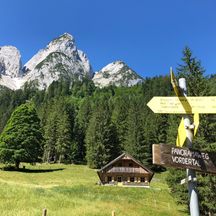 Salzkammergut - a
variety of lakes
The Salzkammergut is not only home to the Gosau Lakes, but also to numerous other lakes which invite you to cool down and relax.
The water in the Salzkammergut is very special and no lake is like another. Each one has its own particular beauty.
Lake Gosau: Enjoy fresh milk from the cows grazing on the pastures in front of you in the picturesque huts.
Lake Hallstatt: Cool off in the most beautiful lake, as the Hallstatt people call it, and enjoy the special view of the famous town of the same name.
Wolfgangsee: Combine nature with culture and admire the well known 'Weiße Rossl' while you relax in the cool waters of the Wolfgangsee.
Fuschlsee, Attersee, Traunsee…