Fun,
adventure

and variety when hiking in Austria
Spending time out in nature is not only a useful stress reliever for adults. Children too can benefit from active time in the fresh air. Austria offers the perfect conditions for a brilliant hiking holiday with children. Hiking routes close to nature, countless highlights along the way and paths that stimulate your child's senses and ensures they will not be bored while hiking. On top of this there are cosy hotels, family friendly accommodation and the impressive cuisine of the region that will also delight young hiking fans. With so much variety, children quickly forget the time or the path that may still lie ahead. When hiking with kids in Austria, the whole family experiences the pure joy of life.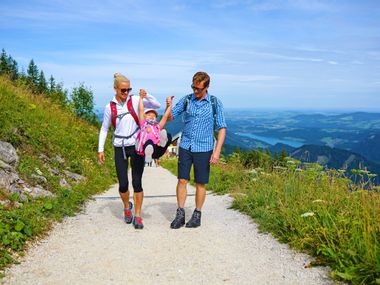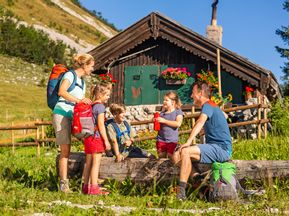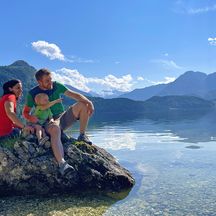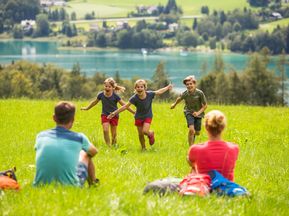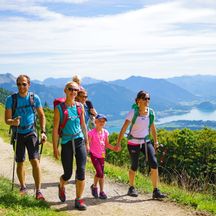 The most beautiful hiking tours for
families

in Austria
Enjoying nature together step by step
Pleasure Hiking

and Alpine Walking in Austria
Austria is considered a hiking paradise due to its wonderful nature and particularly varied network of hiking trails. The Alpine Republic is not only a location for experienced hikers, but also beginners, leisure hikers or active families can enjoy time out in nature here. Our individual hiking tours offer the perfect hiking adventure for walking families of all age groups. Explore the region in a particularly adventurous way on our Walking holiday Salzburger Pinzgau for families: on the 'Baumzipfelweg', crossing the "Golden Gate Bridge of the Alps", in the forest slide park or on Montelino's adventure trail, to name just a few of the highlights. Dreamy alpine landscapes, alpine dwellers and delicious alpine 'Jause' await you on our Hiking tour Salzkammergut pasture walking for families. This tour includes sailing boat tours, thunderous waterfalls, overnight stays in traditional huts, a ride on the summer toboggan run and countless opportunities to swim in Lake Wolfgang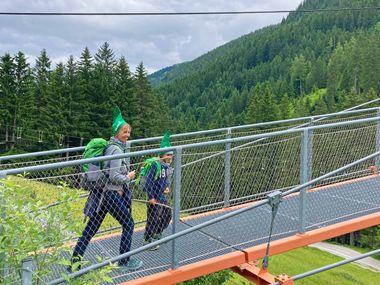 Lake paradise and hiking
by the water

in Austria
Explore the most beautiful places in the Salzkammergut on our Walking holiday Salzkammergut Rivers & Lakes for Families. Here the route takes you to the Siriuskogel, to the Salzkammergut thermal baths for relaxation and action, to Lake Altaussee for hiking and swimming and to explore the salt mine in Hallstatt. The best thing about these hiking tours is that they are also ideally suited for hiking holidays with a dog due to the good routes. The whole family will be happy to have their four-legged companion with them on holiday.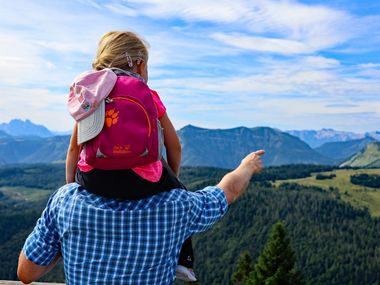 Tips for even
more variety

when hiking with children
Play, adventure and fresh air on a hiking holiday
To ensure your little ones don't get bored while hiking, we have put together a few interesting tips for even more variety:
Sing some songs together or practice some hiking rhymes
Search for a hiking stick
Guessing games such as "I see something you don't see and it's..." or "How many steps are there to the next signpost..."
Throwing stones into the lakes and rivers as you walk
Enjoying a picnic in nature
Planning joint activities in the future
Balancing on tree trunks you pass by
Refreshing your hands and legs while hiking by lakes
A small hiking break to watch animals
Collecting stones, leaves or pinecones to make something at home with them
You can find even more ideas and lots of tips for hiking with children on our Blog article.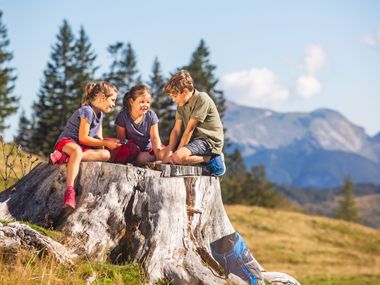 Even more
hiking adventures

for the whole family in Germany and Italy
Our Eurohike travel specialists also offer dreamy hiking tours for families in neighbouring Germany and Italy. Experience the most beautiful routes in the Mosel Valley between Bullay and Treis Karden on our hiking tour Best of Moselsteig for families. Falling under the category 'mountain hiking', this tour is suitable for experienced hiking families. In the southernmost state of Germany there are also family friendly hiking routes waiting to be discovered. On the Bavaria for families hiking tour enjoyment stands front and centre. Whether it is enjoying the traditional Bavarian 'Brotzeit', during a pause by a beautiful lake or letting off steam in the picturesque alpine landscape – in Bavaria the perfect time-out for the whole family awaits. Further south you will find the picturesque South Tyrol, which is a wonderful holiday location for children and adults alike. The enjoyable hiking tour South Tyrol for families, 8-days takes you and your family to multi-faceted stages from Reschen to Meran.