The frontrunner, when it is all about spots to cool off along a hiking route, is definitely the Trekking Route in the Salzkammergut. In ten days you walk past ten lakes and one is more tempting than the next. The challenging hiking route leads from Fuschl am See through the entire lake scenery in the picturesque Salzkammergut region. The steeper the route the more you welcome the cool waters. So, remember to pack your swimming trunks and bikini in your rucksack and off you go for a dip! Please read the detailed tour description of the trekking route now!
Tip: Try a detour to Bad Ischl and visit the Emperor's Villa (Kaiservilla) and afterwards enjoy a 'Melange'-coffee and a traditional 'Stollen' in the renowned Zauner confectionery shop situated at the esplanade.
Always follow your nose: hike along the rivers
Moselle and Eifel
You love nice wine, breathtaking panorama and fascinating culture? Then our hiking tour along the Moselle and Eifel Trail is just perfect for you. Your constant companion: the river Moselle! When your feet get unbearably hot in your shoes, the T-shirt sticks to your back and initial beads of perspiration form on your forehead – then it is time for a cooling off. Do not hesitate and dip your feet into the fresh waters of the river Moselle. A perfect hiking tour for culture enthusiasts, who do not want to go without a daily cooling off.
You fancy exactly this route? Then find out details for the tour Moselle and Eifel Trail!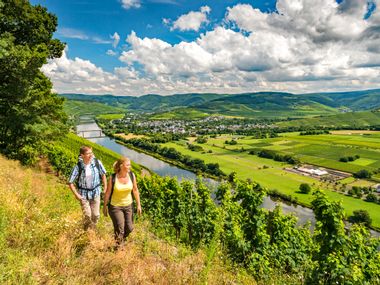 Bella Italia on
Sardinia's East Coast
You always walk along the coast with the sound of the sea in your ears. And now and again a fresh breeze tickles your nose. Divine! You walk along the sea from Santa Maria Navarrese as far as Monte Irveri. In the evening you enjoy your dinner in lovely pub gardens amidst olive groves accompanied by the chirping of crickets. A glass of wine and a plate of pasta turn this into an unforgettable evening. En route remote bays with turquoise glistening waters as smooth as glass await. Hence always pack your swimwear! A round of snorkeling in between is a real treat! Try it!
Are you a fan of Italy? Then take a look at the entire route of the Hiking Holiday on Sardinia's East Coast!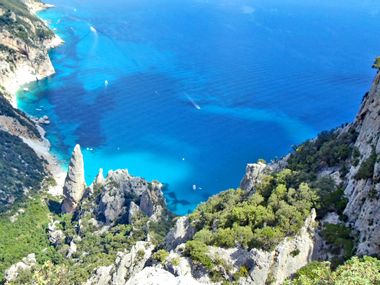 Have you grown to like it? Do you want to hike across Bavaria's alps, the Baltic coast or the lavender fields of Normandy? No problem! The experienced Eurohike-team has a suitable hiking holiday ready for any taste and preference. Please feel free to browse through the broad selection of offers!