If you love travelling, rebook!
Why rebooking helps the travel business
We here at Eurofun Touristik like to dream – usually of exciting and relaxing active holidays in the most beautiful landscapes in Europe. But when it comes to serious matters, we would classify ourselves as 'realistic optimists'. In this way we try to master the months shaped by Corona as best we can, to look after our customers with heart and a lot of personal commitment and look to the future with optimism. Because one thing is certain: there will also be a time after Corona in which the desire to travel will be as great as before!
For this reason, it is particularly important to us to take part in the #verschiebdeinereise (rebook your holiday) from the Deutschen Reiseverband (German Travel association, DRV) and draw attention to the alternatives to cancellation: rebooking your trip. Because those who do not cancel their trip now, but postpone it until late summer 2020 or 2021, support the entire travel industry. For a tour operator, this would mean that employees remain employed, full-time internal jobs can be secured long term and all trips will take place after the crisis. In our case, if you continue the chain, this also means that we can maintain countless hotel bookings, partner travel agencies continue to receive their commissions, guest transfers, tastings, tours etc are organised and we contribute to the survival of other tourist businesses. As you can see: rebooking is good!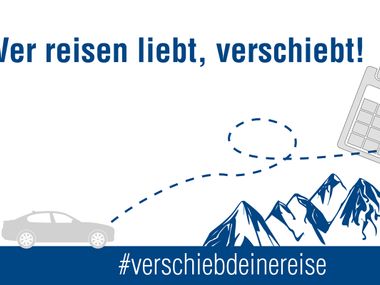 We are happy for you to rebook your active holiday free of charge up to three weeks before arrival – for all our original tours to all destinations!
Any payment already made will remain and assigned immediately to your new booking.
Our customer advisors will be happy to inform you about your options. Please contact us by email, phone or via our online contact form.
With your trust, you make a significant contribution to maintaining the liquidity of the travel industry during this challenging time.
Your advantages
Rebooking your Eurohike hiking tour
We offer numerous attractive conditions for rebooking your active holiday! The easiest way is to contact one of our advisors. We look forward to hearing from you!
Carefree new bookings
In the current situation, you may have to think twice about booking a trip or not – and we fully understand that. That's why we would like to enable our guests for all our original tours to rebook free of charge up to 3 weeks before arrival for all new bookings.
What we want to give you
The current situation undoubtedly demands a lot from us, the Corona crisis is unprecedented for the travel industry. But if we stick together now and remain in solidarity, we can continue to make great travel plans in the future, in any case we are here #withheartandsoul – and we look forward to it!