The hikes –
versatile and unique

!
If you love views that stretch into the distance, the Salzburg peaks are the right place for you! The best example is the mountain hike in Pinzgau. This walking stage stands out not because of the height that must be climbed, but by another special feature. With the Schattbergbahn (funicular) you are brought to an altitude of over 2000 metres. Once there, you hike along the ridge and climb summit after summit. There are unforgettable views of the mountain ranges, which you can enjoy all day in great weather – a picture book hike through and through. You will find wild blueberries as you go. But even the stage to Maria Alm shines in its own way. With the Leogang Steinberge in the back, it goes up to the Schwalbenwand, the summit of the days hike.
A very good mix of local conditions, from hiking on gravel roads, forest trails to hikes above the tree line between impressive rock formations. With a little luck, you will also see groundhogs here, which the Pinzgauers call "Mankei". At the right time (Autumn) you can experience the Almabtrieb – a beautiful traditional spectacle held every year. Our last leg to Saalfelden was unfortunately characterised by bad weather and thick fog was our constant companion to the next hotel. In contrast to the previous day's hike, not quite as many altitude metres are covered. Nevertheless, the forest paths with cool, oxygen-rich air are very pleasant.
Accommodation with
Salzburg flair
It's not only the hiking tours, but also the hotels that deserve a special note in my opinion.
We spent the first night in Hotel Reiterkogel in Hinterglemm. We were warmly welcomed and enjoyed high standards at the foot of the Salzburg peaks. The view from the balcony gives an idea of the height and which you'll complete your next hiking day.
After our first day of hiking we arrived at Gasthof zur Post directly in the centre of Maishofen. A family-run, rustic house with very polite owners and lovingly furnished rooms, which exude the typical flair and ambience of a country house.
I was also very impressed by Hotel Niederreiter. It all started with a very nice gesture from the owner, who we had asked a favour of. After a short confused facial expression, he was, it seemed, amused and promised us a meeting with his head chef. But more on that later. The hotel is located directly at the foot of a ski lift in the heart of Maria Alm. In addition there is a nice owner, who puts his heart and soul into the hotel, which has been run privately for generations. A prime example of a clean hotel with a feel good atmosphere.
Our last night before the journey home was spent in Hotel Hindenburg in Saalfelden. Again, you feel completely comfortable and could certainly stay a few days longer, not least because of the beautiful spa.
Culinary experiences
All the hotels and restaurants we visited on our trip get full points! As for the choice at breakfast or on the evening menu, we always had the right food.
Of course you have to adapt to the food of the rural kitchen. We ate traditional Salzburg cuisine. Whether 'Kaspressknödel' (cheese dumplings) or Salzburg Schnitzel, it left nothing to be desired and we enjoyed the fresh regional ingredients.
But now briefly to the aforementioned 'attack' on the Hotel Niederreiter in Maria Alm! On our hike we saw some beautiful porcini mushrooms and harvested them, without hesitation (you are allowed to pick 2kg per person, we had about 3kg). Back at the hotel, we told the owner. We said "We have brought our supper with us, could we use the kitchen please?" which made him smile. After this he took a look in our backpack and laughed. After a short chat with the chef he told us he would like to prepare our porcini mushrooms for us. And so a short time later we feasted on porcini mushrooms with potatoes, tartar sauce and a mixed salad.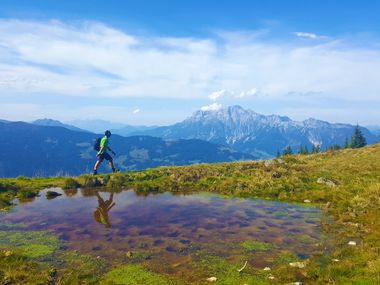 Small side note: We of course thanked the host and consumed a lot of dessert and drinks!
Summary
This is a hiking trip par excellence for every mountain lover who wants to go high! Breathtaking views over the vast Alps, fresh air and beautiful hiking trails. A TOP trip which offers everything a hikers heart desires.
"Hiking is an activity of the legs and a state of mind"
In this sense, enjoy hiking and mountain healing.
Your mountain fan Valerian!