Doesn't it smell wonderful! The smell of freshly baked bread triggers a feeling of well-being in many people. There are so many recipes: from classic farmer's bread, sourdough bread, focaccia, milk loaf to modern variations such as low-carb bread or, as some people need for health reasons, gluten-free bread. However, one thing is always the same – the smell of fresh bread from the oven is simply wonderful! In addition, when baking bread, you save yourself the constant trip to the bakery and it allows you to carefully select the ingredients yourself and avoid unnecessary additives.
Bread baking is also a nice activity for families – young and old can knead their own bread and enjoy it together on the walking holiday for families. Simply delicious, fresh, home-baked bread!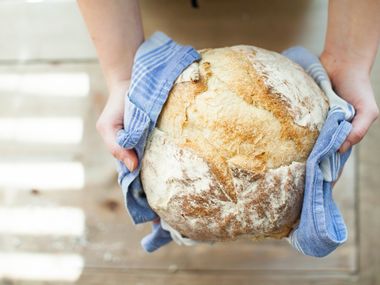 Tips for baking bread & storage
You should take time over the beautiful art of bread baking, so the production of home-baked goods is also a joy. After all, the longer the dough is kneaded, the looser the bread becomes. Here are a few tips and tricks to help you on your way to becoming a master baker:
Type of flour: The selection of the type of flour is important for a healthy bread. Whole wheat flour is ideal for this, has lots of good carbohydrates and keeps you full for longer. Whole wheat, rye, spelt, buckwheat or oat flour – you can bake good, healthy bread with these varieties.
Degree of milling: The degree to which the flour is milled is important, this can be found on the packaging. The higher the number, the more parts of the outer layers of the grain are contained and the higher the mineral, fibre and vitamin content of the flour.
Rest time and baking time: Always pay attention to the appropriate resting time as well as the baking temperature and baking time. But is the bread really done? You can play it safe with a knock test: simply knock on the bottom of the loaf and if it sounds hollow, it's done.
Shelf life: Depending on the type of bread and the correct storage, bread can be kept for a few days. A natural sourdough bread, for example, does not go mouldy if stored correctly and can be kept for up to a week.
Storage: Bread is best stored in a closed bread box or basket made of clay or stone and in a dry, cool and dark place. Either transfer the opened flour into an airtight container or use it up quicky.
Longer enjoyment of bread: Bread is also ideal for freezing. Simply cut the bread into slices and defrost in portions.
Our recipe tip

: Hiking bread with buttermilk
A pleasant hike also includes an enjoyable snack with nutritious and easily digestible bread. In addition, it should be healthy, easy and quick to prepare. We looked through our recipe books and found a wonderful recipe for you – an almond-buttermilk-bread*, the ideal hiking bread.
Ingredients for 1 loaf: 500g wholemeal spelt flour, 100g grated almonds (other nuts can be used, such as walnuts), 50g sunflower seeds, 50g pumpkin seeds, 2 tsp salt, 2 tbsp balsamic vinegar, 250g lukewarm buttermilk, 250g lukewarm water, ½ cube of fresh yeast, 1 teaspoon honey or some bread spices for a more intense taste.
Method: Mix the flour, grated almonds, sunflower and pumpkin seeds, the salt and vinegar in a bowl and crumble over the yeast. Add the lukewarm buttermilk and water and knead into a dough. This dough doesn't require time to proof and can therefore be shaped into a loaf straight away. Spray some water over the loaf, sprinkle over a few sunflower seeds and bake in a pre-heated oven at 210 degrees C for 50 minutes.
*This recipe is based on Christina Bauer's almond bread recipe. Here is the original (available in German language only).
Our gluten-free recipe tip

: Oatmeal bread
A gluten-free bread recipe, that's also possible! Nowadays people suffer from intolerance more and more often. This also includes celiac disease, an intestinal disease and intolerance to gluten, which normally ensures the hold and shape of bread. So that we can not only bake a well-tolerated bread but also one that holds together, the flour selection is crucial. Both oat or rice flour and buckwheat or millet flour are gluten-free. Chia or flax seeds provide the appropriate 'hold'. And plenty of liquid. Today we chose a gluten-free and vegan bread, and this is how to bake it:
Ingredients: 200g oat flour, 150g gluten free oat flakes, 150g rice flour, 550ml lukewarm water, 2 tbsp chia seeds, 1 pack of dried yeast, 1 tsp salt, 2 tsp locust bean gum and 1 tin loaf
Method: Simply put all the dry ingredients into a bowl and mix well. Now add the lukewarm water and mix on medium level with a dough hook for about five minutes. Grease the tin loaf with oil (skip this step if using a silicon tin), pour the batter and smooth it out with a little lukewarm water. Let the dough rest in a warm place for about an hour. Then switch the oven to 200 degrees C and place a tray with warm water on the bottom of the oven. Brush the bread with oil and bake for 50 minutes. After the bread releases from the pan, place if back onto a rack to cool down.
And now? Enjoy!