Perfectly informed

and well advised
Let's start with the perfect planning and organisation of your short hiking holiday. Because with precise organisation, nothing stands in the way of a well-deserved break. Especially if you only have a few days to spare, good planning your holiday is all the more important in order to ensure a successful and relaxing experience. Our Eurohike travel specialists take care of the important organisation for you. Just let us know what your individual holiday wishes are and what kind of destination you prefer – we will advise you with a lot of know-how and experience. In addition, our hiking guests enjoy our Eurohike WanderPlus on all Eurohike short holidays, including detailed travel documents, personal on-site support during your short hiking holidays, charming hotels and accommodation and the reliable luggage transfer during your entire active tour. With us you start well-informed and well-advised in your perfectly organised short hiking holiday.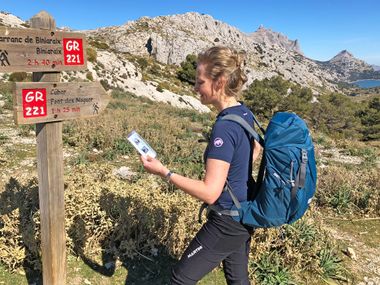 How a perfect
short break

works
What other factors should you take into account to guarantee an optimal short hiking holiday?
Our travel specialists at Eurohike have a few valuable tips for you:
Wonderfully relaxed in the right time zone: What does the time zone have to do with your enjoyable holiday experience? A lot! On our Eurohike hiking holidays you can explore the most beautiful regions of Europe on foot. The best part is that you are mostly in your own time zone and therefore avoid jet lag.
Out and about at your own pace: Our Eurohike hiking holidays are divided into four levels of hiking. This guarantees that every energy and experience level get the perfect adventure out of it. Do you prefer to hike relaxed? Then our leisure hikes are the ideal form for you. Or perhaps a somewhat more demanding mountain hike or even a trekking tour make up your dream short hiking holiday? With us you are safe on the route and in your own hiking rhythm and can concentrate completely on yourself and finally switch off.
Local highlights: Are there special sights or highlights in your travel destination that you definitely want to visit? Make a note of your personal wishes before you start your journey, which you can also realistically explore without making your short break hectic. So, nothing stands in the way of a tour full of highlights.
Active recovery follows healthy exercise: To ensure that you have the necessary recovery on a short hiking holiday, it is advisable to do something good for yourself after a demanding day of hiking. Whether you are relaxing with a wonderful aperitif and a delicious dinner, relaxing in the inviting wellness area of your accommodation or while exploring your holiday destination – tune into yourself and your needs.
Quality over quantity: According to this motto, we at Eurohike ensure that your individual short hiking holiday becomes a wonderful and all-round high-quality travel experience. With us you are always on the most beautiful hiking trails in Europe, far away from the tourist crowds and spend the nights in selected hotels. You will experience that special extra comfort on our hiking holidays with charm.
Even more holiday fun: The trend in holidays has developed over the past few years towards 'shorter trips, more often'. Does this form of travel also appeal to you? Wonderful, then you can start thinking about your next tour as soon as you return home from your short hiking holiday and look forward to a new adventure.
Are you ready for your well-deserved and pleasant short hiking holiday?
All options for short hiking holidays with Eurohike, as well as lots of information and tour tips at a glance.